Engine
now browsing by tag
A small update:
The replacement engine for the Rebel is now well underway – The crankshaft has been polished (which took 2 zirconium flap discs, 40meters of emery tape and 3 days) This should reduce stress risers and oil-cling.
The Crank, Flywheel, Clutch Cover, Timing Sprocket, Front Pulley etc have all been dynamically balanced down to less than half a gram. Each item was individually balanced before being assembled together – this means if I want to change the flywheel or another component in the future it will not necessitate stripping the whole engine down for re-balancing.
The connecting rods have been polished and balanced not only to the same weight but to the same weight distribution between little and big ends. Pistons (Hepolites) have been balanced as well. The Balancing was carried out by David Martin at Swaymar Engineering, a name that speaks for itself…
The crank, Rods, Flywheel etc are all brand new old stock items made before reliant quality control started to slip!.
Piccies:
Crankshaft after polishing: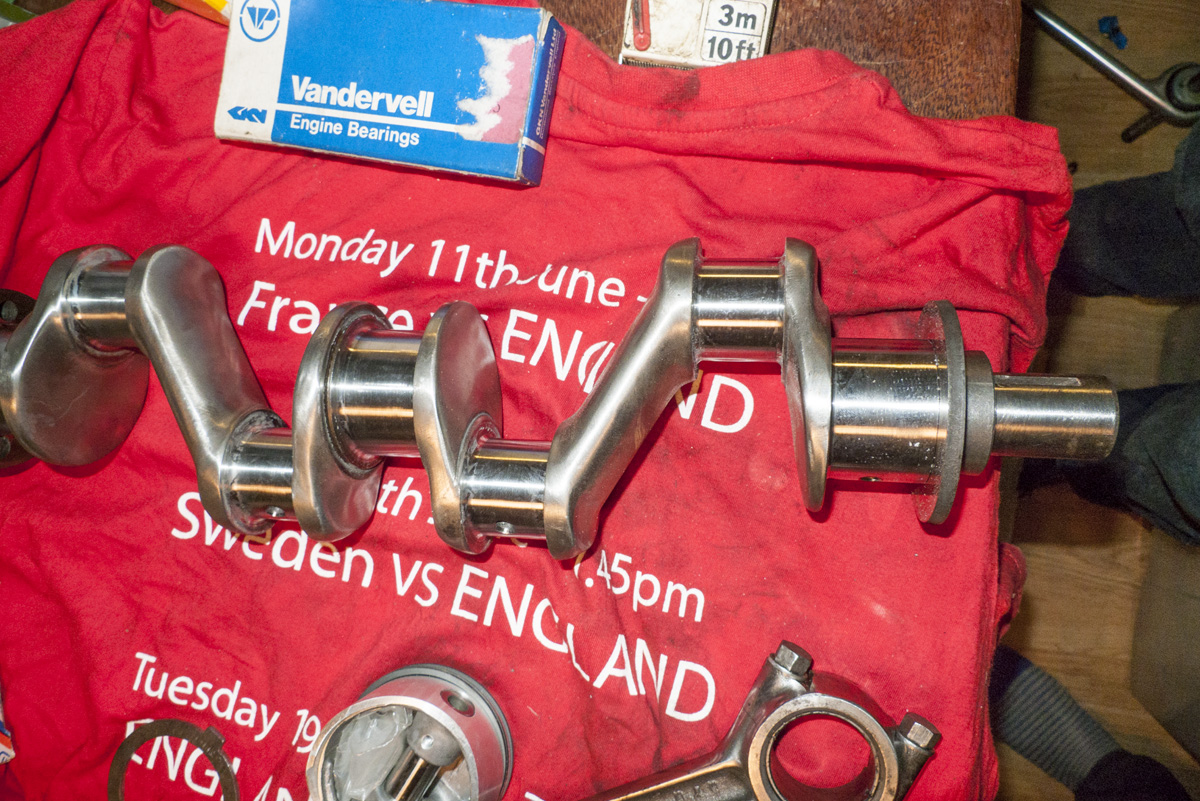 And back from the Balancers: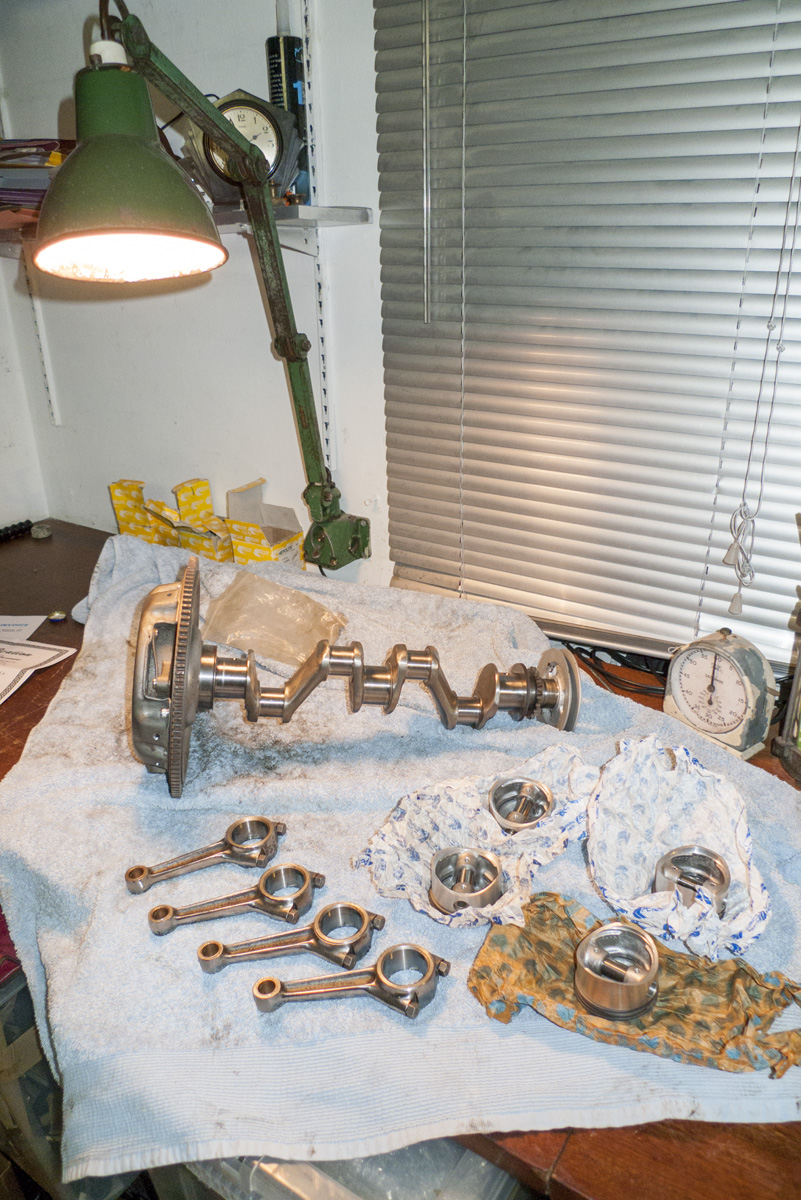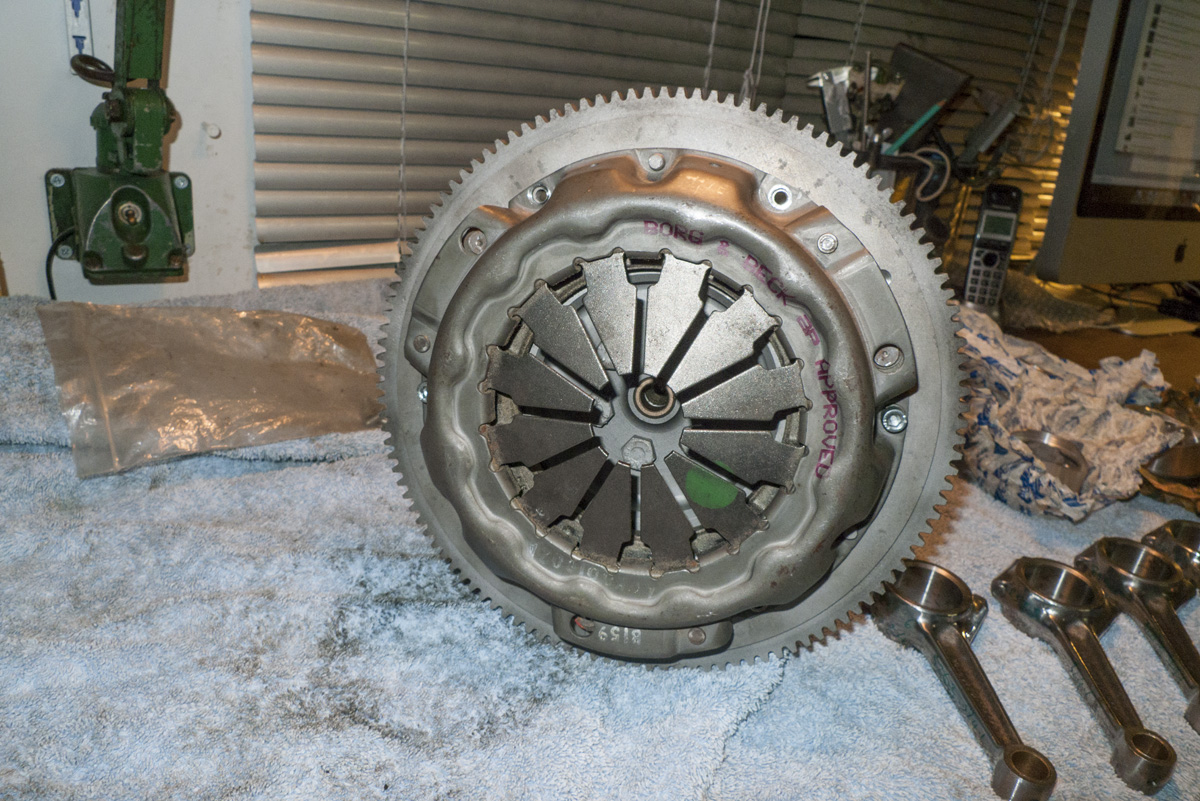 Showing some of the holes drilled in the clutch cover for balancing: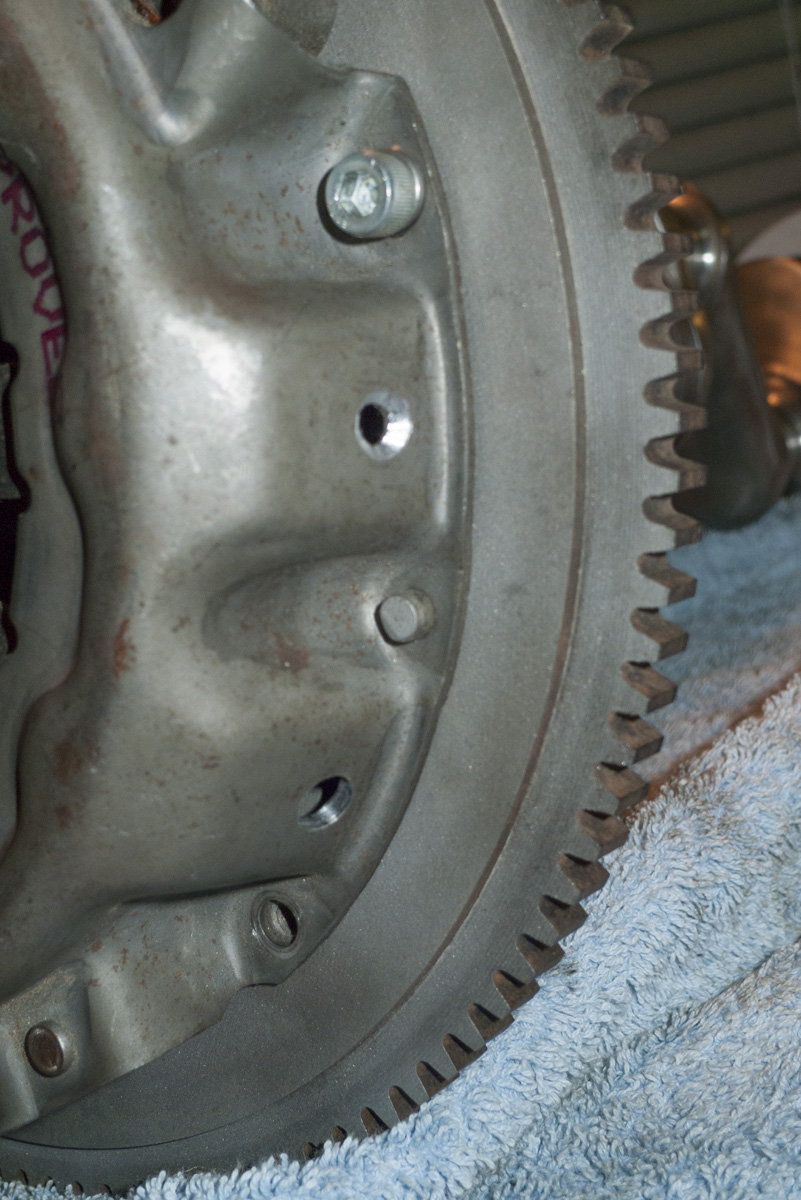 And flywheel balancing: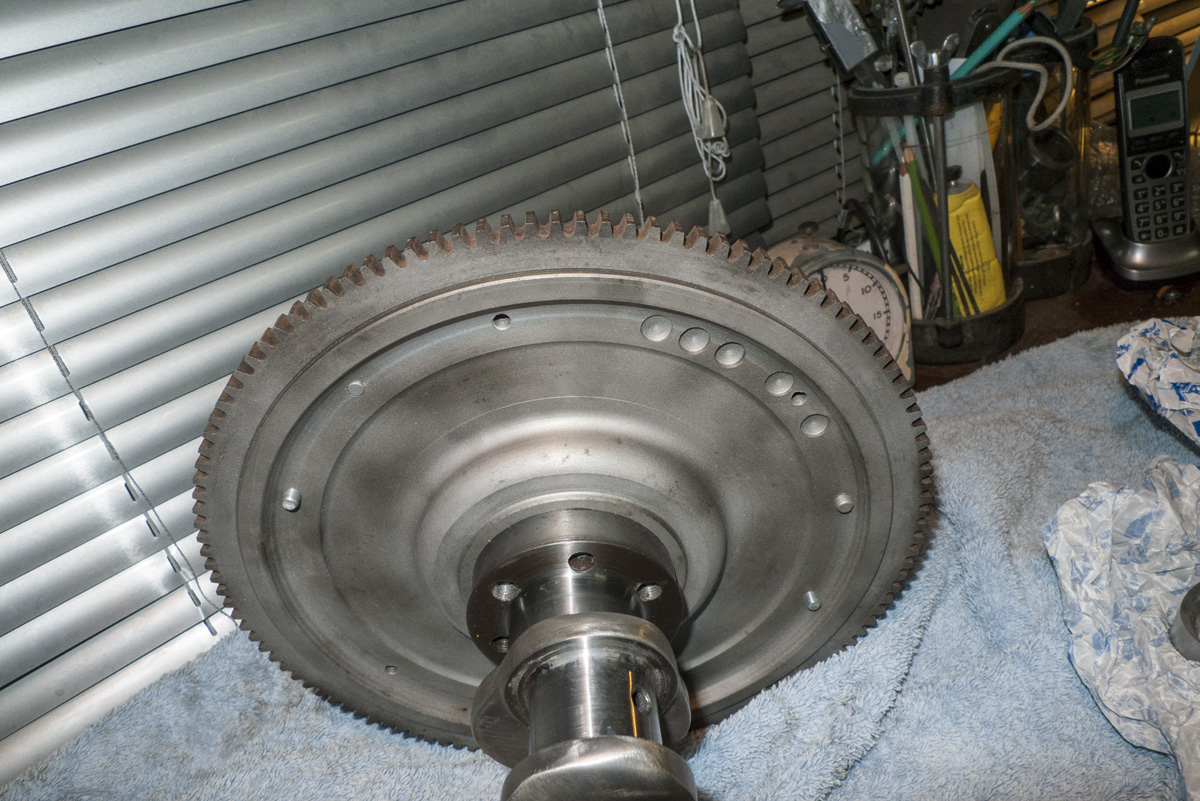 Oil holes in the crank have also been lightly chamfered and the journals polished: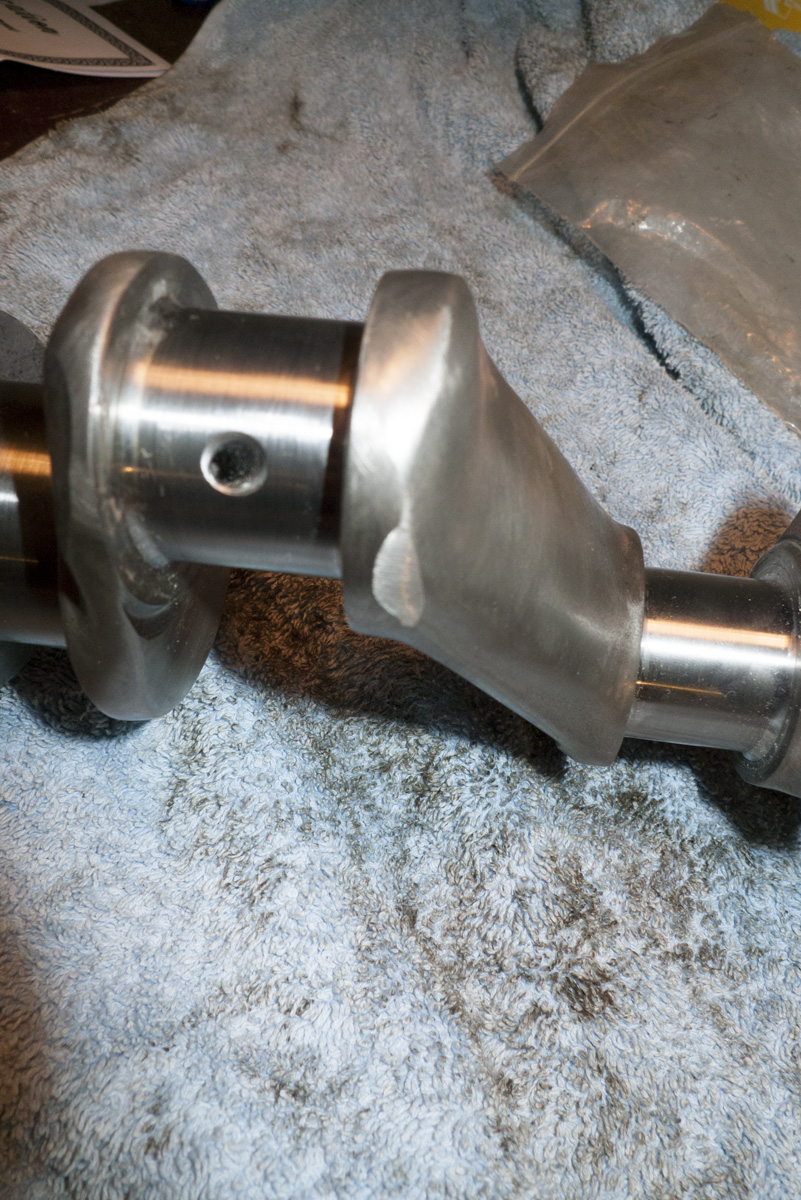 Front pulley has been faced up in a lathe as it was a rough casting,
I may have to swap this for a smaller toothed pulley depending on clearance around the external oilpump conversion: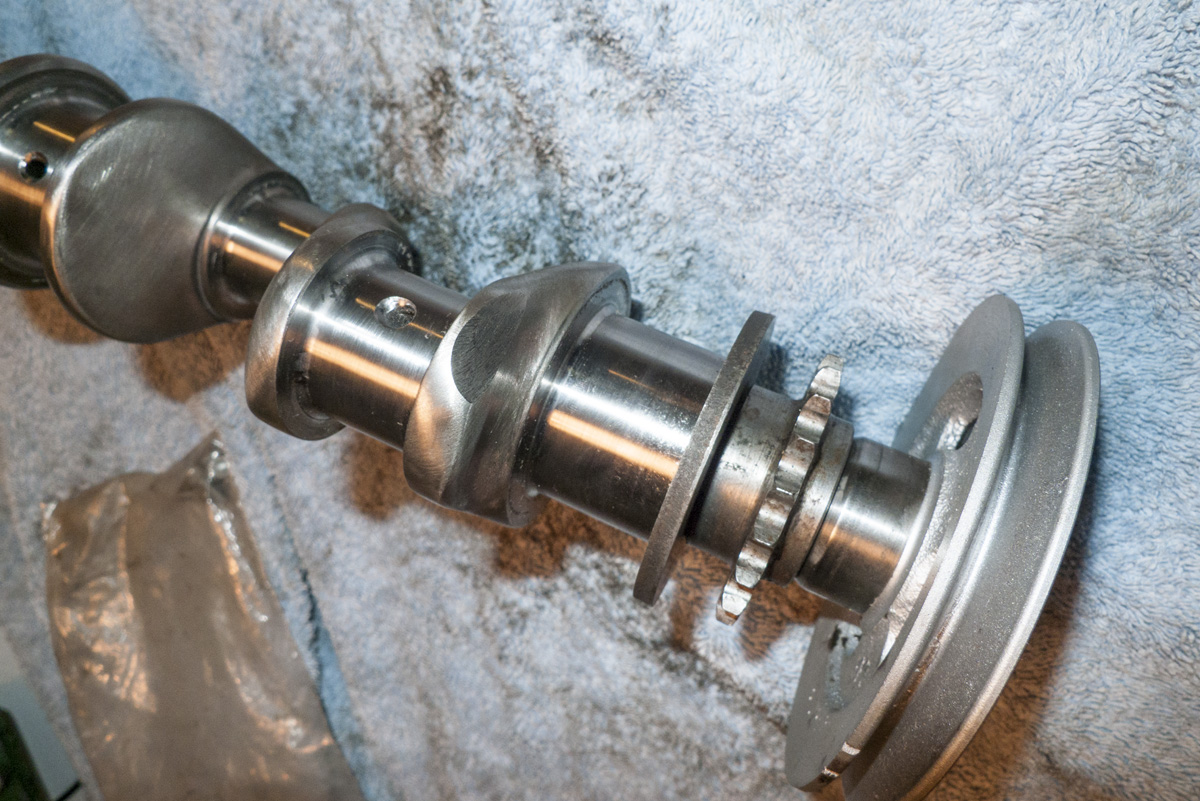 Balance drillings: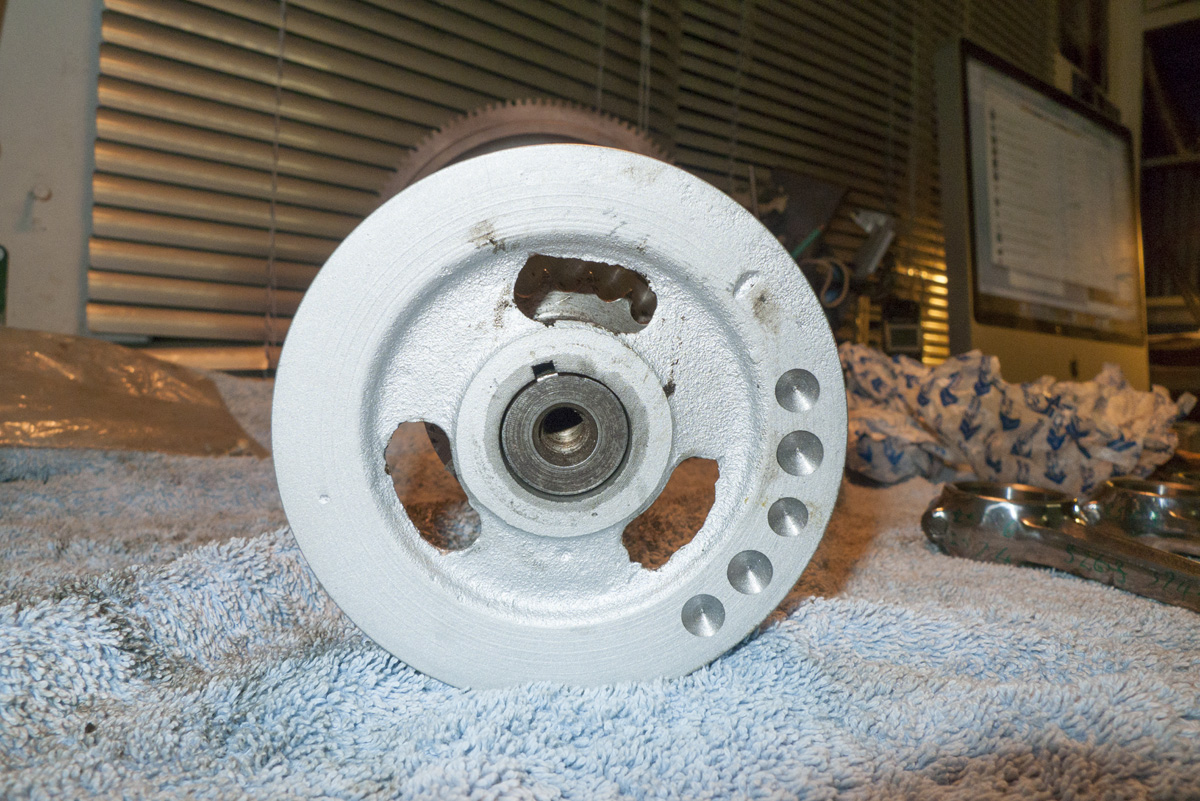 Con Rods – You can just see where the third rod from the left has been turned in a lathe to remove meat from around the outer edge of the big end: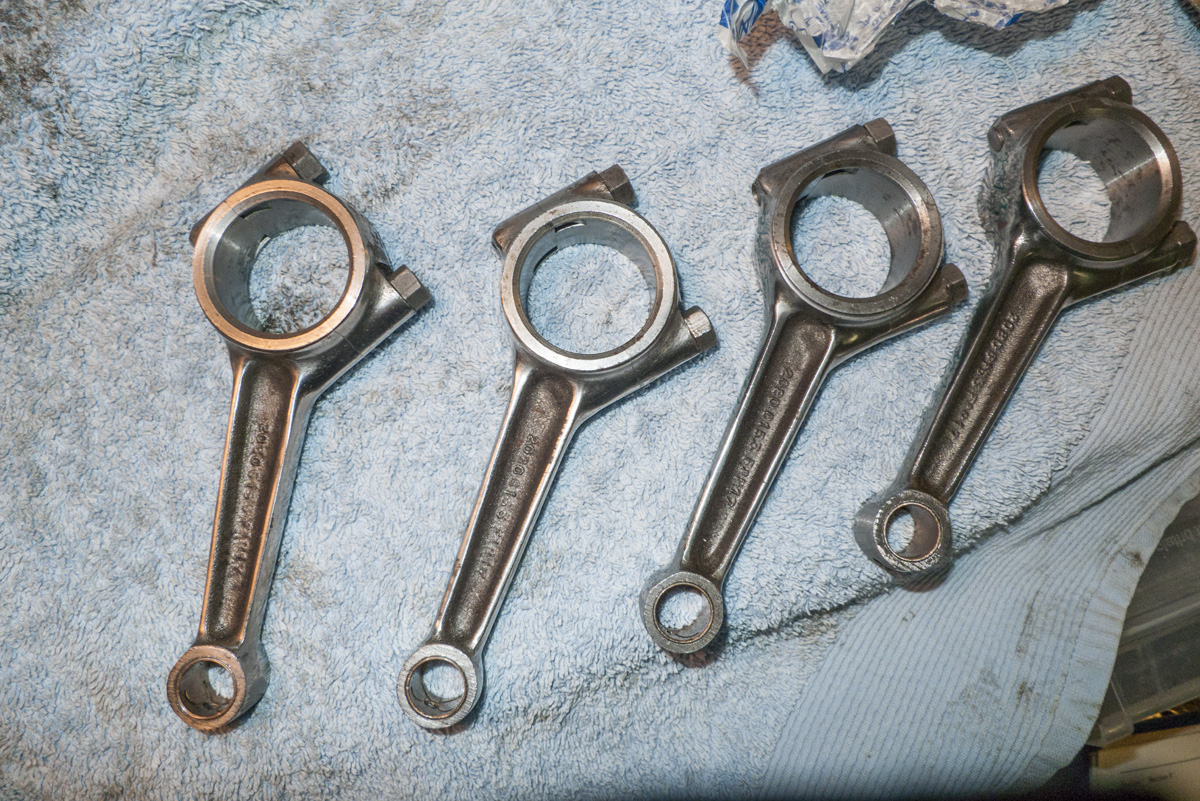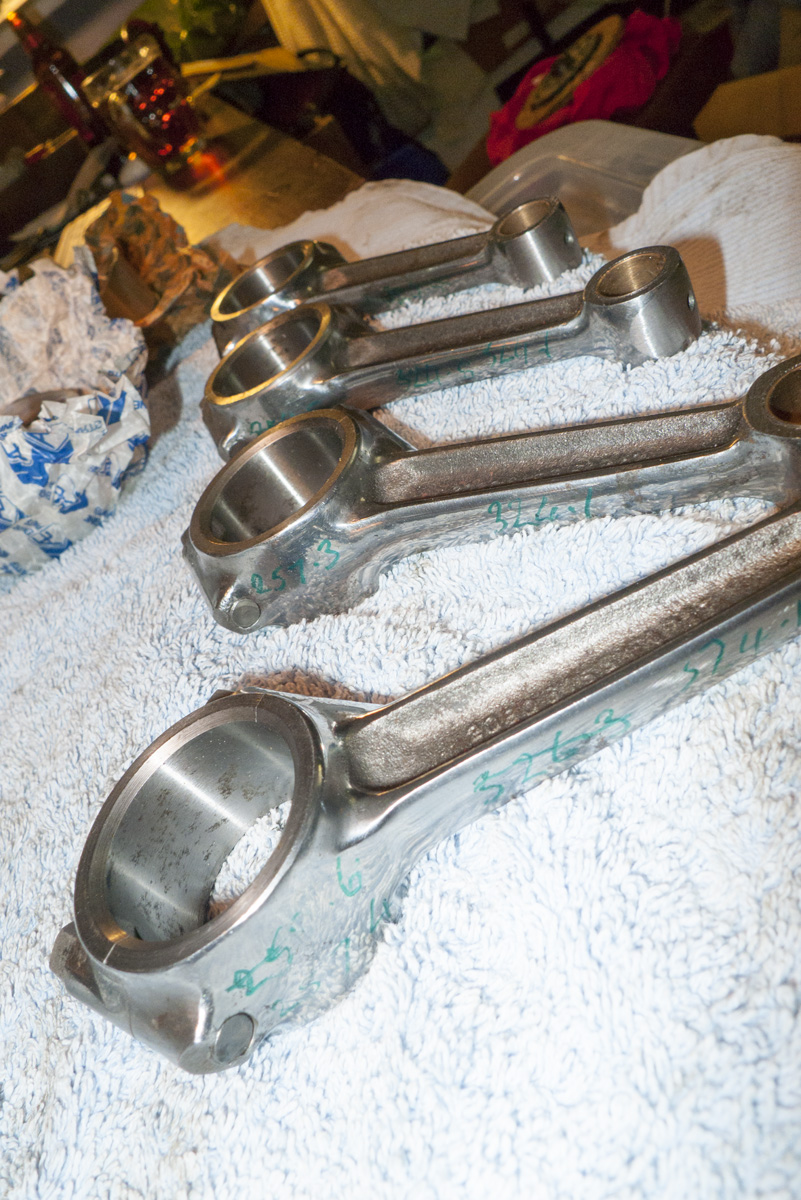 Nos Hepolites which were surprisingly well balanced straight out the box. Still – they're now all balanced to exactly the same weight!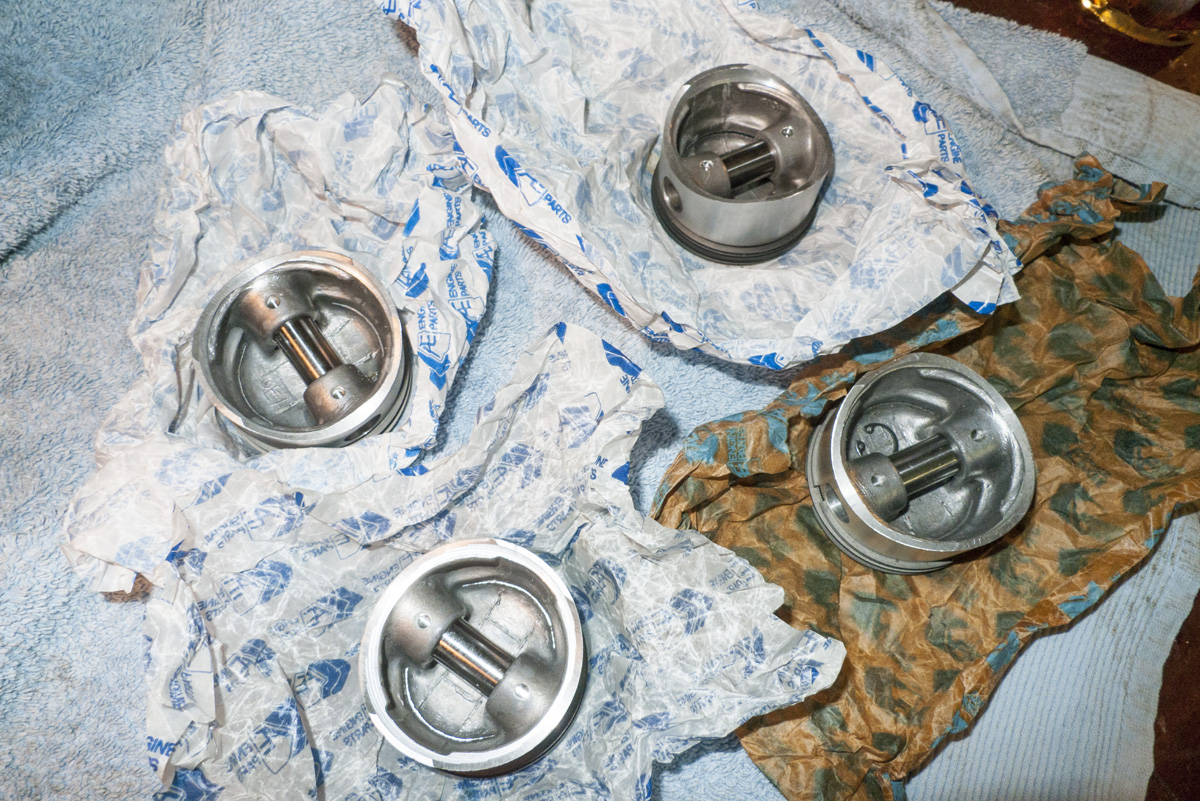 Showing where material has been removed from the skirt: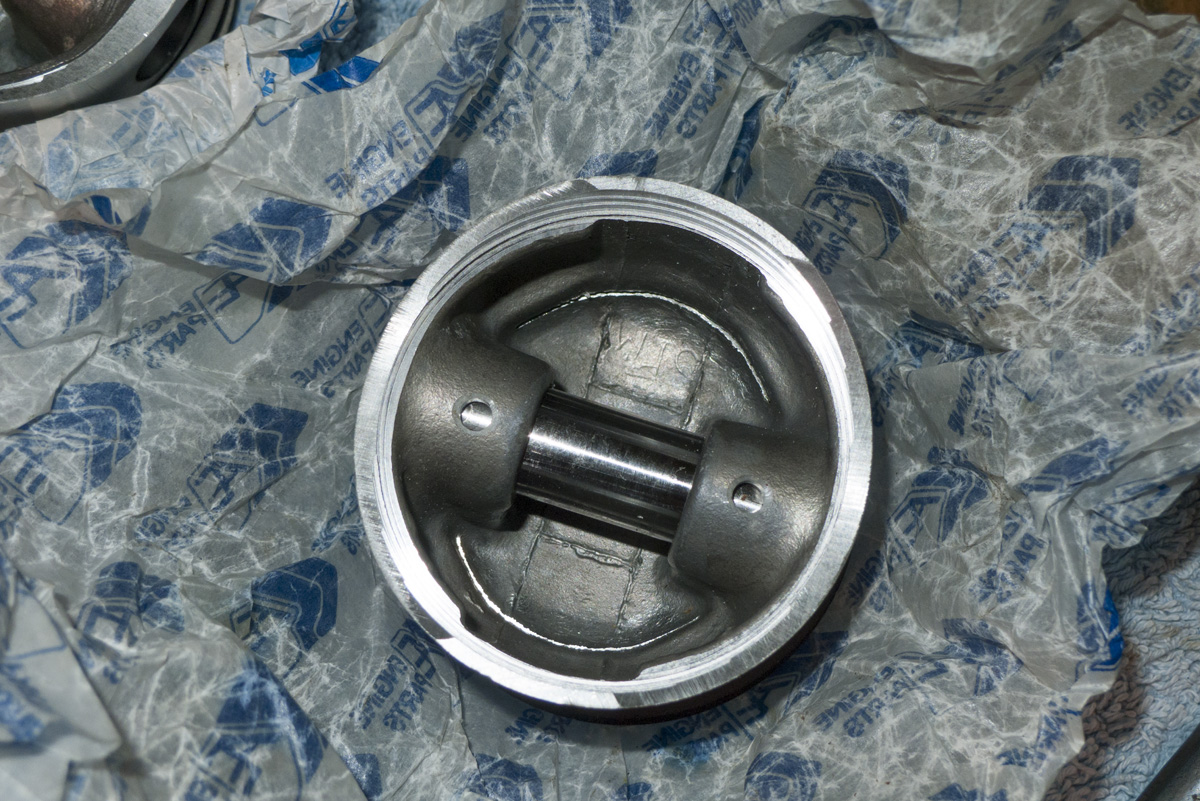 And finally a pretty bit of paper to prove I spent lots of money!: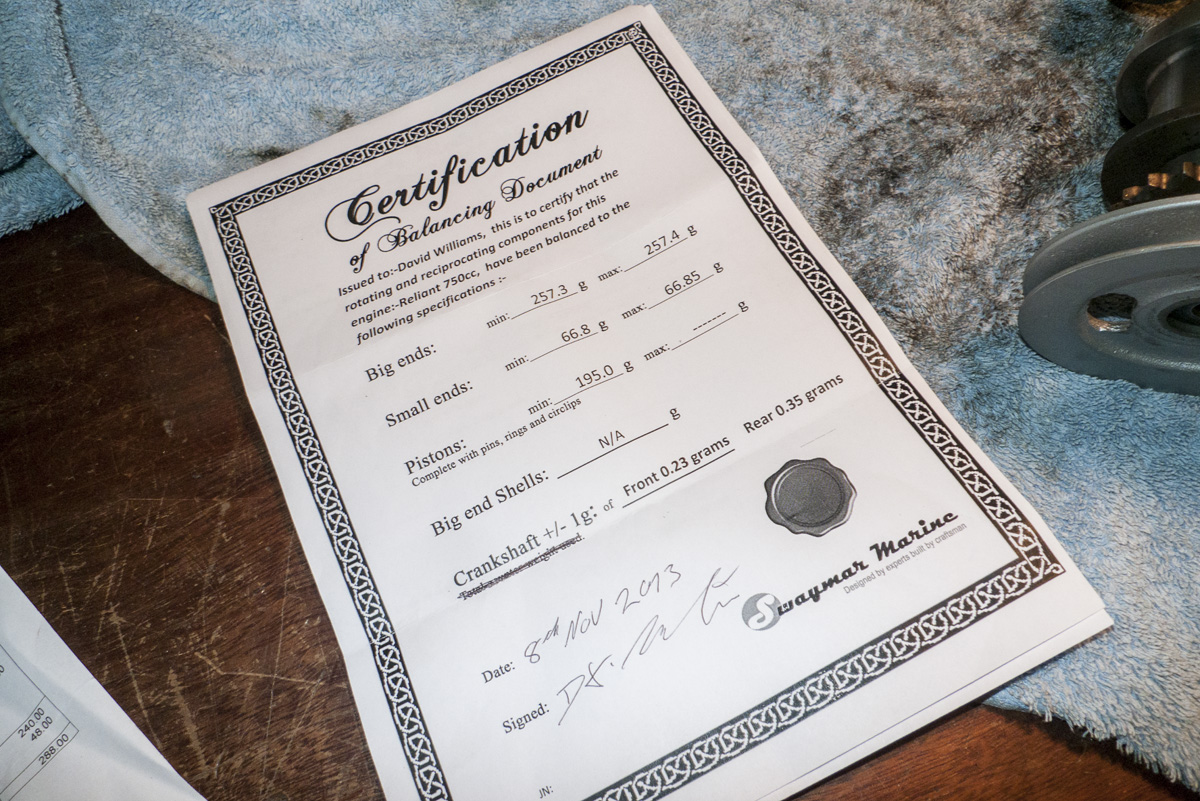 It's been ages since this thread was updated, mostly as its been on the road being used and enjoyed! Since I last updated it was involved in an accident (a mondeo owner decided to reverse into it) and its since been repaired, (done in house rather than left to insurance.) It's passed another MOT in september with one advisory for an oil leak!
The big changes are the wheels which have been widened! The standard 12″ diameter wheels have gone from 3.5J all round to 5.5J at the rear and 4.5J on the fronts. This gives a benefit in grip and handling, as well as adding a subtle dish to the wheels which really increases their kerb appeal. The wider wheels have also been fitted with new Falken tyres, Since the photos were taken its also been treated to new shiny chrome hub caps.
The dash still needs to come out for a coat of paint and some new vinyl on the top. There are plans to send a number of bits off for chroming including the gear stick, dash heater vent surrounds, sun visor mounts, gear stick and handbrake surrounds. There's also a plan to re-introduce period Britax seatbelts (chromed, of course!)
Outside the front indicators have been swapped for clear glass lenses, (some rebels appear like this in the advertising material.) A new old stock rear bumper has been fitted! replacing a slightly pitted original. I'm still on the lookout for a perfect front bumper to match! (although most of the mondeo dent has now been removed) In the near future the grill is going to be fitted with a stainless mesh to help protect the radiator.
The engine is still the 600cc engine that was dropped in as a temporary measure and has coped with the unfair demands put on it far better than we ever thought it would! It has a tendency to burn oil though and what it doesnt burn it chucks out the crankcase breather at an alarming rate… It also returns a fairly shocking mid 20′s mpg! The plan is still to drop in a tuned custom built race engine, which is in progress. This can't turn out to be any less fuel efficient even with the Dellorto FZD I'm planning on fitting!.
An order has just been placed for a set of fully adjustable Gaz shocks and springs which will hopefully further enhance the handling. 
As seen here in some recent photos: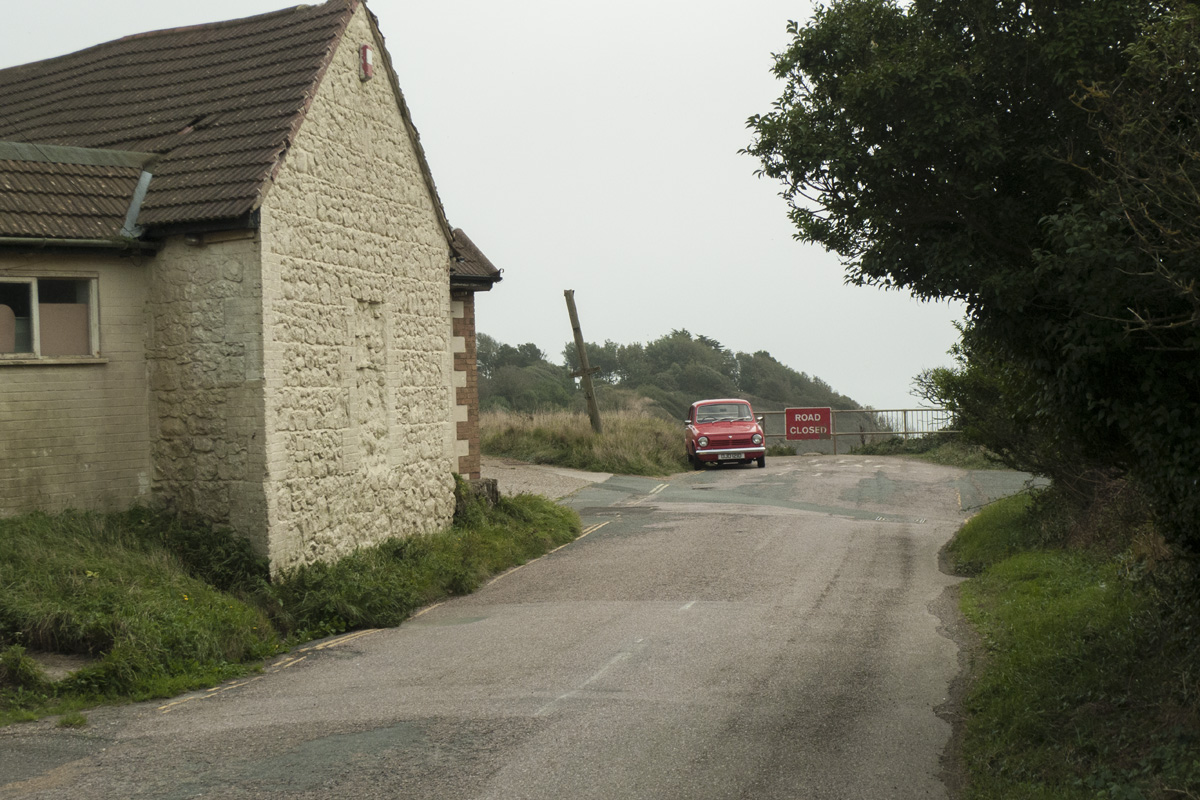 Showing new wheels and tyres: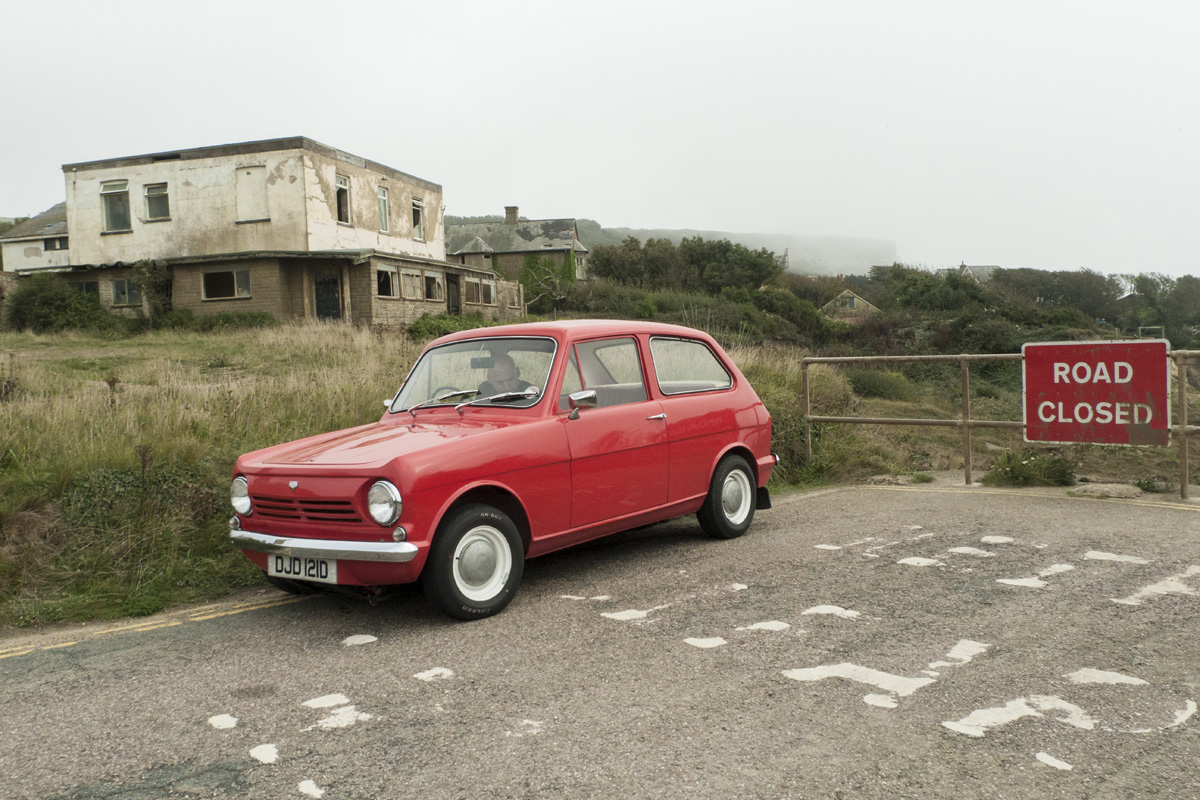 Work on the front brake Disc conversion is almost finished – I've been working on a setup allowing disc brakes to be used with the original 12″ road wheel diameter. A standard Spitfire setup has clearance issues as well as being the wrong PCD, after much thought (or speculation?) I've come up with a solution which should be more than adequate for a Rebel….
This is a unique setup utilizing machined Vauxhall Firenza Hubs with turned steel adapter rings to take re-drilled triumph Spitfire Discs running on modified Scimitar 5 – early5a stub axles attached to New old Stock Triumph Spitfire Vertical Links, Inner bearings are on a specially turned 316 stainless spacer on which the Lip type hub seal also runs. Calipers are Genuine Girling type 14′s with new pistons and seals fitted with Mintex pads intended for an Austin Maxi!.
Whilst this might sound like a complex nightmare it should mean that future service parts (bearings, Discs, seals etc)will be readily available off the shelf with only the stub axles requiring turning down in a lathe, it also increases the front track width by 2″ which combined with the wider wheels should make the car handle even better than at present.
This shows the Viva Hub attached to the Spitfire disc: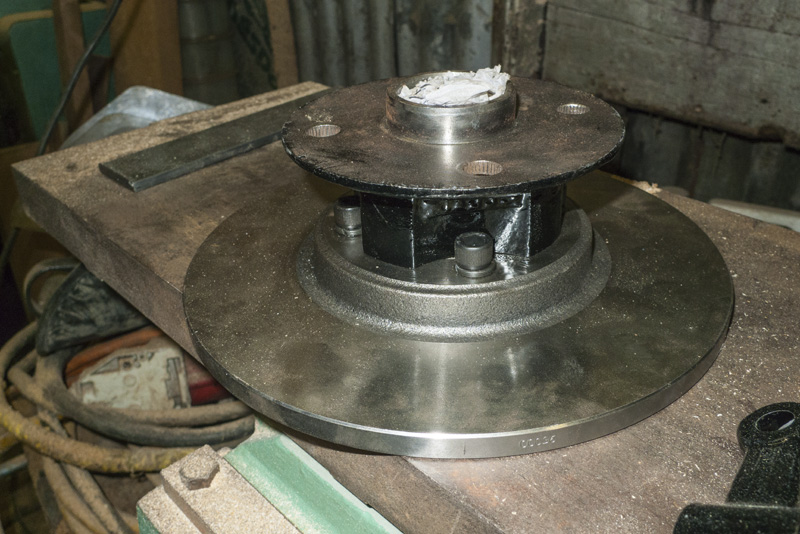 Rear view showing the adapter ring mounted inside the disc: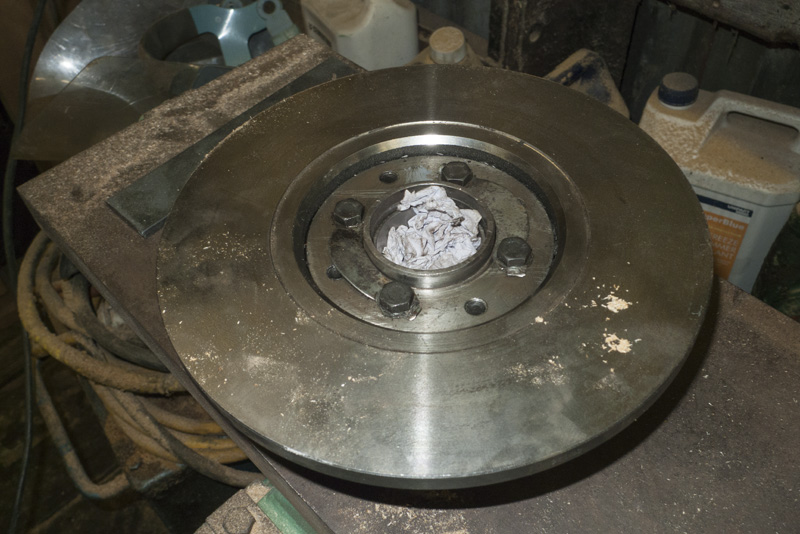 Spitfire Vertical link and dustshields: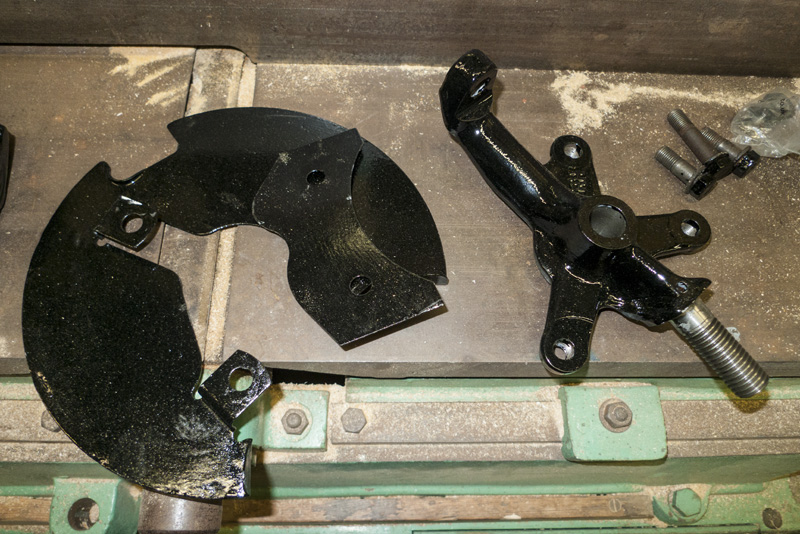 Rebuilt Type14 Caliper: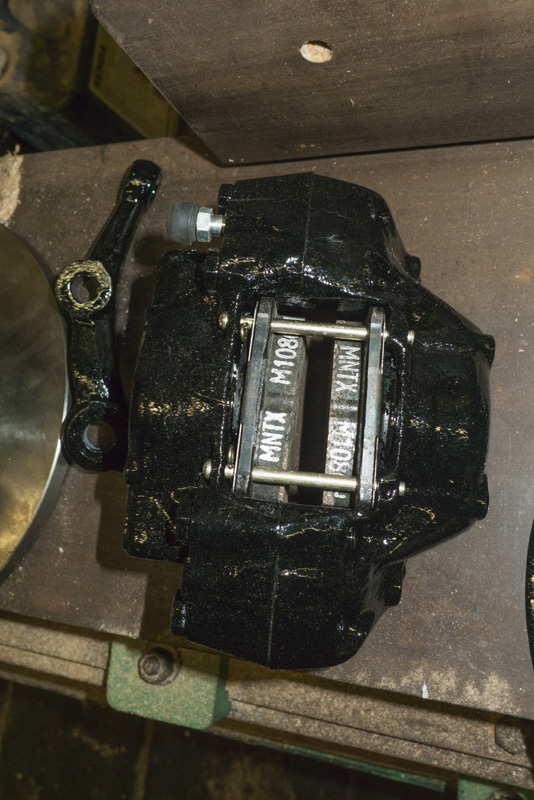 Complete Assembly: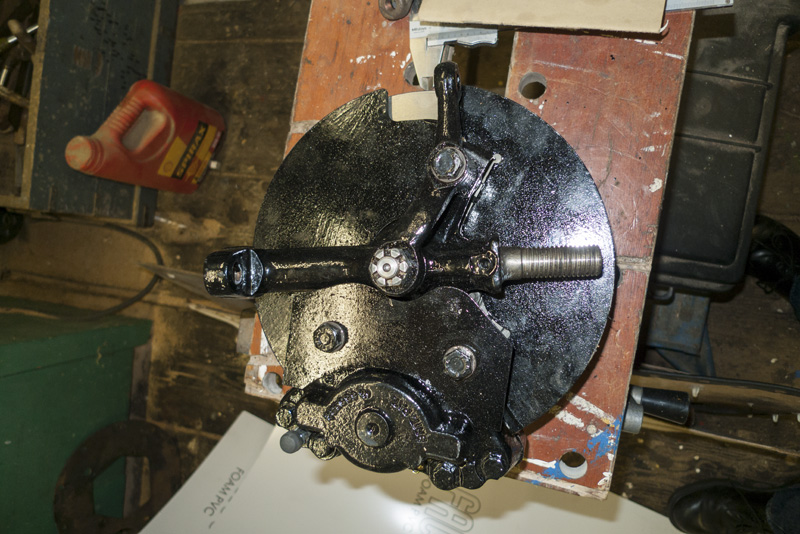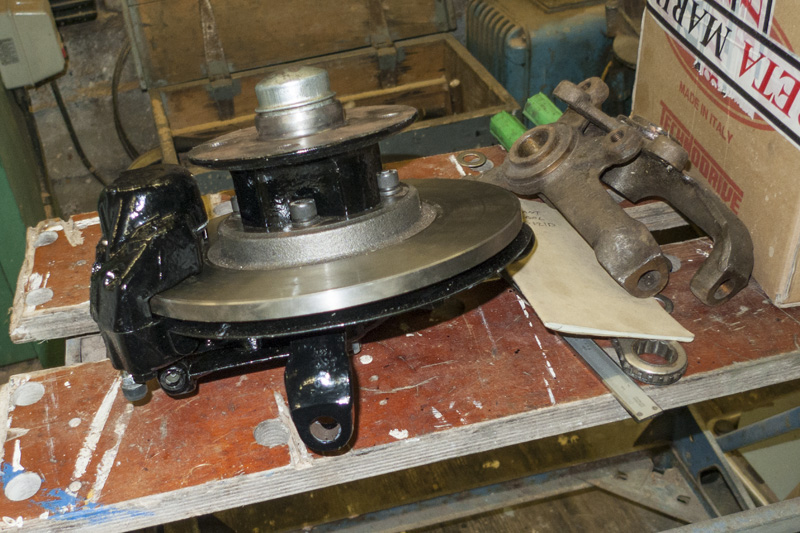 Another modification I've been working on is a fully synchro' Gearbox – The early semi-synchro rebel Gearbox is derived from the Regal  but has a much longer mainshaft and a tailshaft extension with remote gearchange mounted on top – This remote is a precise feeling short throw setup which gained much praise in period reviews (virtually always considered best in its class). Later 750cc Rebels have a fully synchro gearbox but lost the remote change, as well as having synchromesh on first/second this box also benefits from a higher ratio gearset and better parts availability (close ratio gear-sets are also available for this box!). I decided to build a gearbox based on the 750 box but having the benefits of the early boxes Remote Change, this is complicated somewhat as reverse is a longer throw on the later box as well as being in a different position.
Having decided to create the ultimate Rebel gearbox it stood to reason the antiquated carbon clutch release bearing setup should be engineered out – Later three wheelers use a Ford Fiesta/escort roller bearing clutch – although this was only made as a cable operated setup. I've decided on a hydraulically operated system as this will be smoother and more robust, this has required welding bushes into the bell-housing to take a vertical cross-shaft to mount the Ford bearing on.
All Rebels (and most 3 wheelers) are fitted with inertia starters – When starting from hot it inevitably takes two or three attempts before the engine fully catches as the inertia starter gets kicked out as soon as the engine try's to fire.
Very late three wheelers have a pre-engaged starter and therefore a different bell-housing, unfortunately these gearboxes are not compatible with a Rebel tailshaft extension so I've taken a section from one of these later bell-housing and welded it into my inertia gearbox.
The end result will be a Franken'Gearbox which will have synchromesh on all gears. Short throw remote gearchange, Pre-engaged starter and Hydrualicly operated Ford Roller Bearing Clutch, This is built using entirely New old Stock components with the exception of the Mainshaft and the case.
Overview of modified gearbox with remote change unfitted: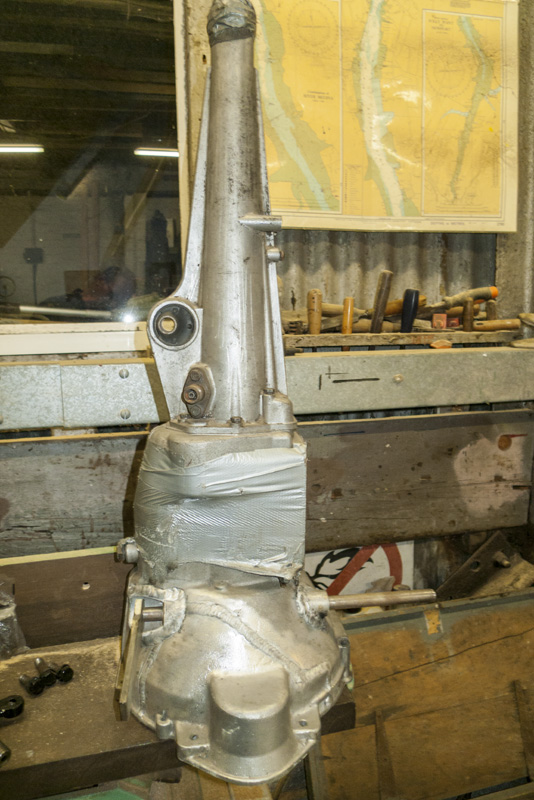 Section removed from original bell-housing: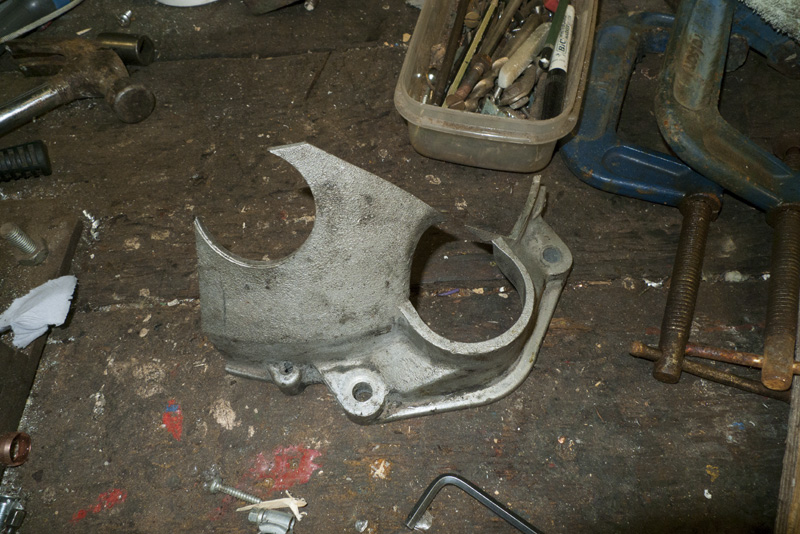 Showing section from late pre-engaged box welded in and (unfinished) clutch operating shaft and arm fitted: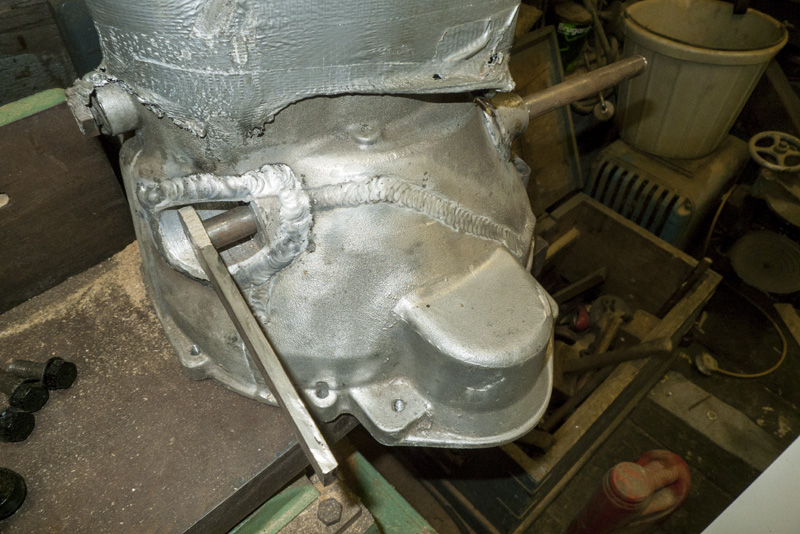 Arrangement of Ford release bearing – Note newly drilled inspection hole filled with rubber plug for checking bearing once fitted to car: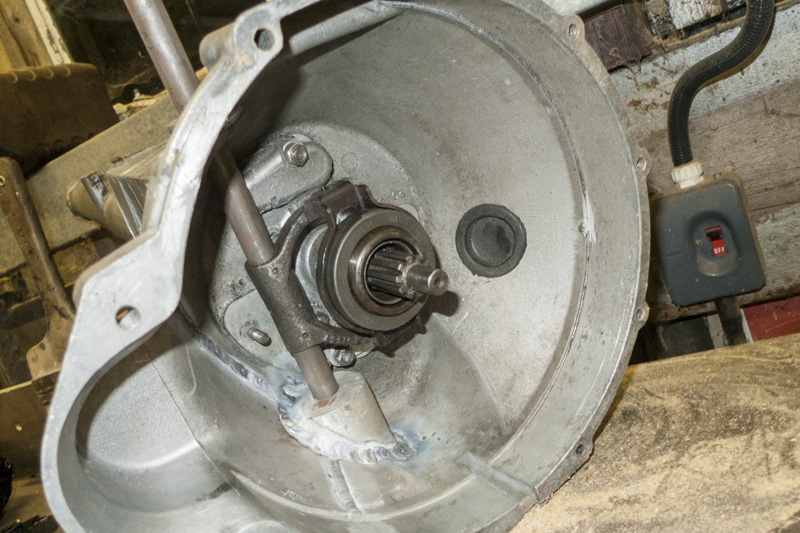 I've modified the flywheel from the standard 3 bolt fixing:….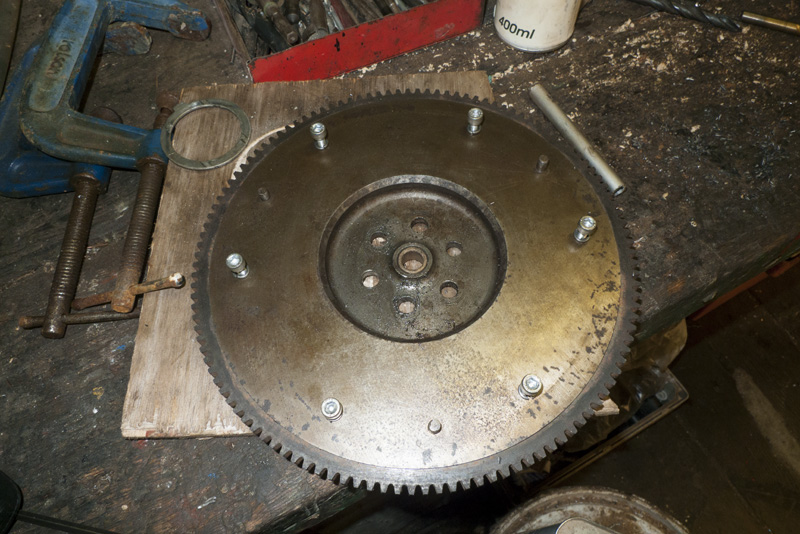 And drilled and threaded the crankshaft to suit:….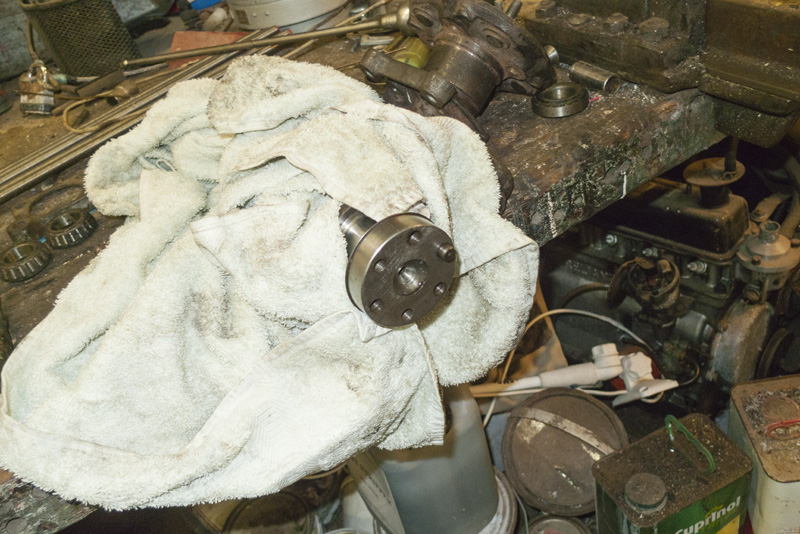 As a reward for reading this far here's a Video of the Rebel razzing it's knackers off down the Military Road…
[youtube]http://www.youtube.com/watch?v=4EkrkrtN5cg[/youtube]
With the Rebel undergoing prep for painting we've started to think about building up a decent engine. This is no small task, During the last 8 months numerous engines (at least 12) and countless parts have been acquired with the intention of building a "tuned" 750cc motor, Unfortunately other than spending a impressive amount of cash we hadn't actually made any progress on this front until recently…
The following photos show some of the parts we've been procrastinating over. The first set of photos show a Brand New 750cc engine block with balanced crank and flywheel, polished con-rods and strapped center main bearing. Its in its original packing case destined for Export and has no serial number.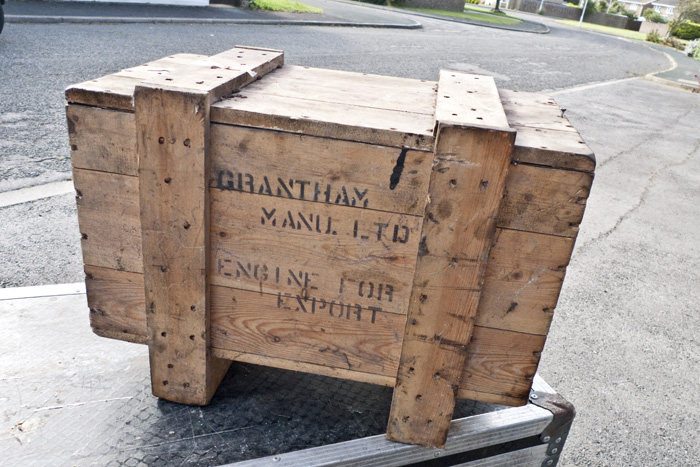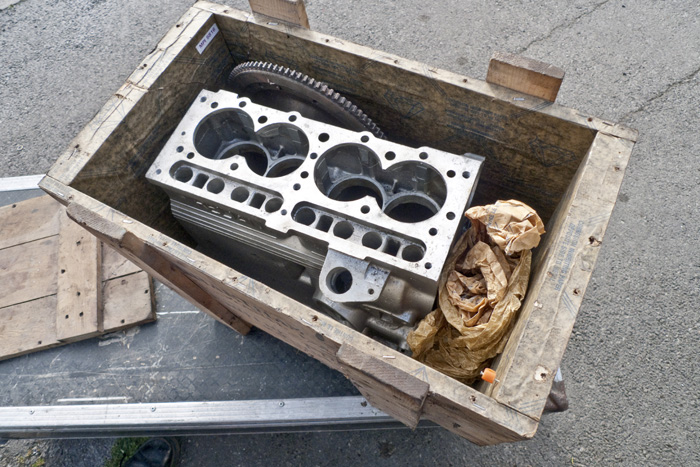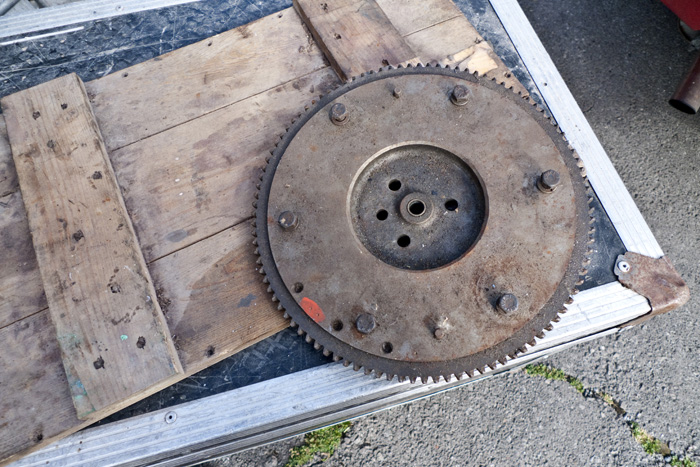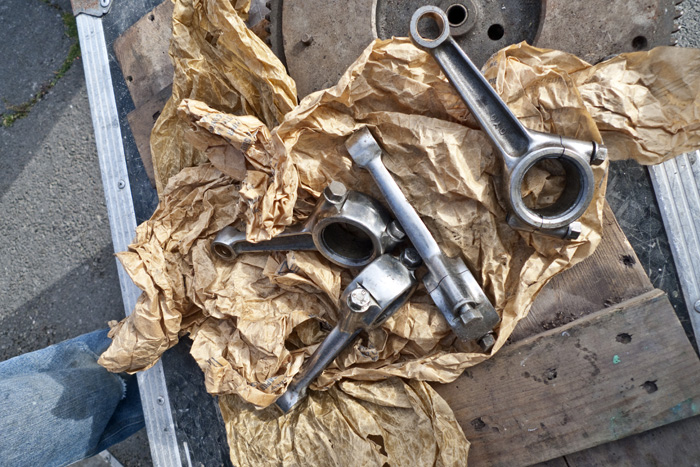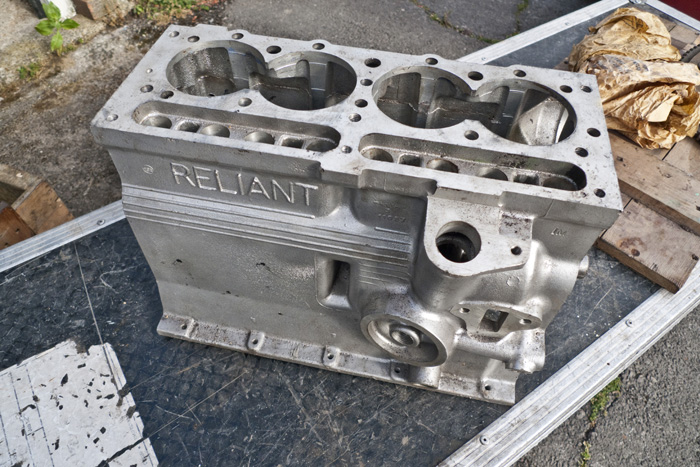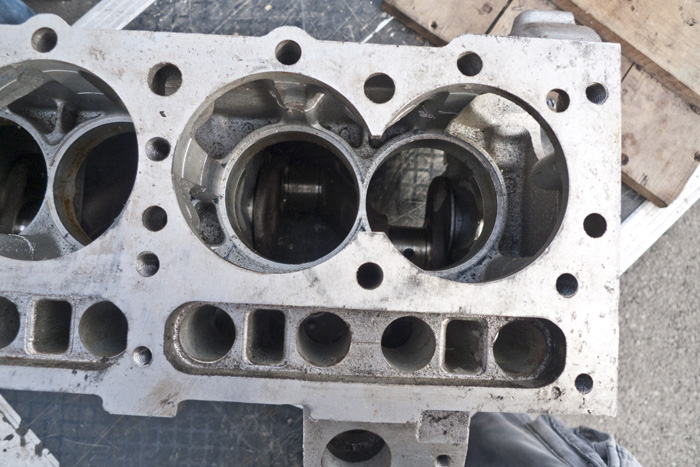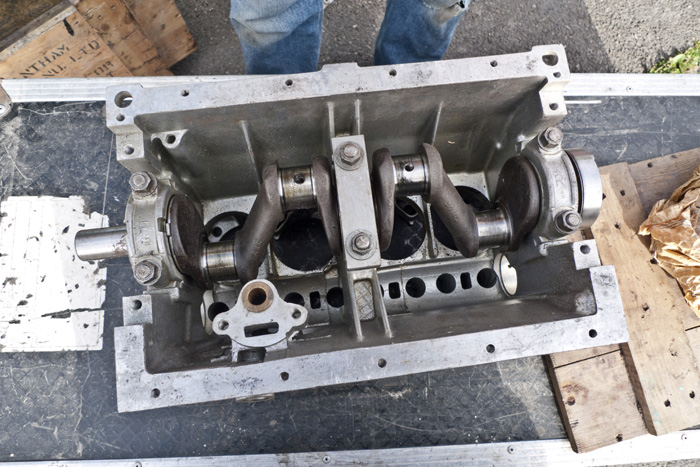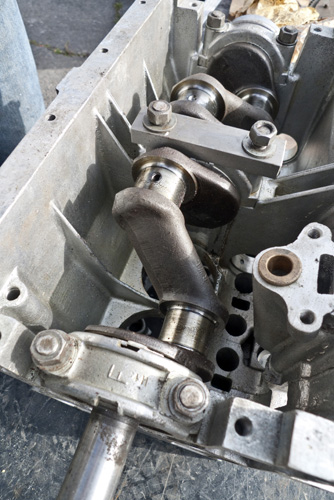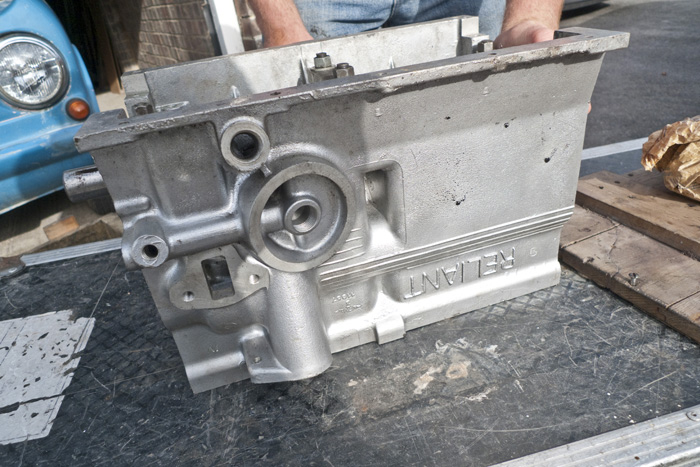 These next three show a ex 750 Formula Race engine. Fitted with a Ford Kent oil-pump on a custom cast Ali timing cover driven off the front of the camshaft, Polished rods, strapped center main, lightened rockers, high lift cam and non vacuum distributor.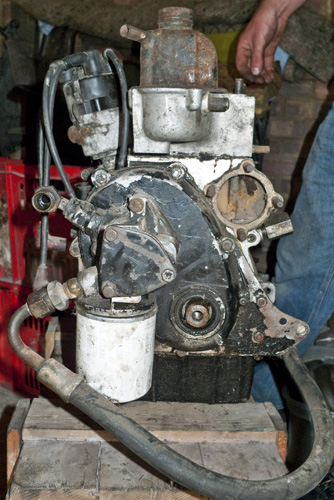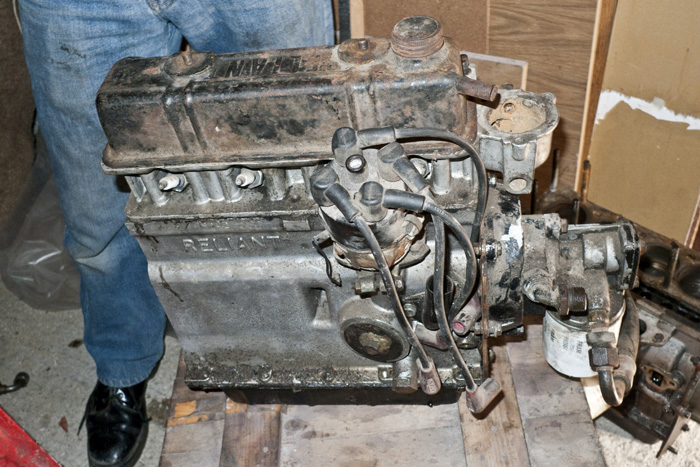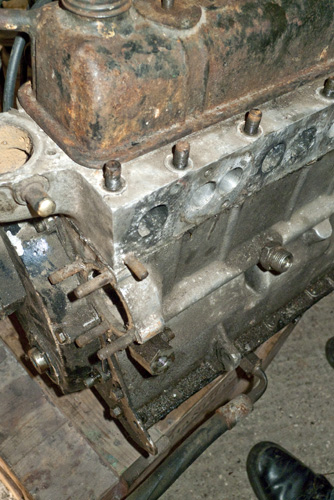 We bought this Early 600cc engine last year, Modified for 750 formula use it came with the following – All 3 main bearings strapped, High lift cam, fully lightened and polished crank and rods, hepolite pistons, ported head and lightened rockers and a full flow oilfilter conversion instead of the original bypass arrangement. The intention had been to use this engine but once we stripped it down it needed a fair amount of work, The block has cracked across where the center head stud thread is located (a common problem with reliant's), the crank was badly scored and the liners were badly pitted on the outside where they're exposed to the water-jacket.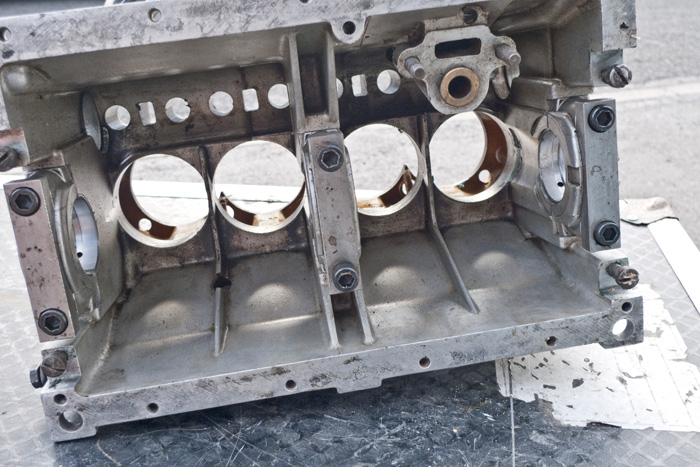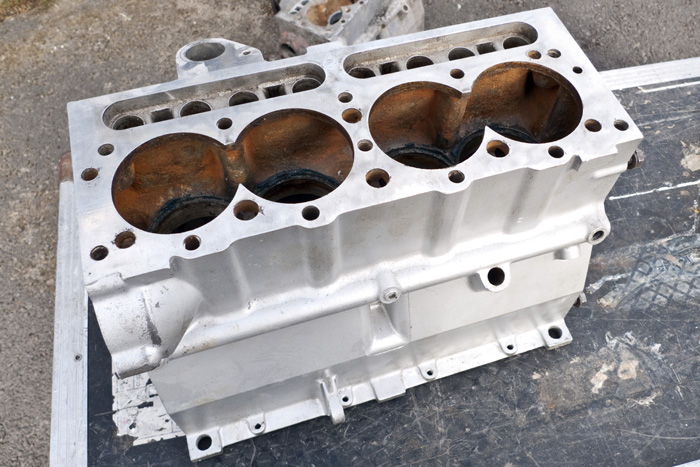 Rather than use one of those engines I've decided to spend even more money on modifying the original 600cc engine that came with the car (the only reason i can come up with to justify this is that it has the right serial number on the side) The block has now been modified to take 750/850 liners and the current plan is to use a 750cc crankshaft rather than a longer throw 850 one to reduce piston speed and make it a bit more responsive on the rev front. The next stage will be to get the center head stud Tig welded up, steam clean the block and strap the center main bearing and modify the oil system to give better flow to the main bearings.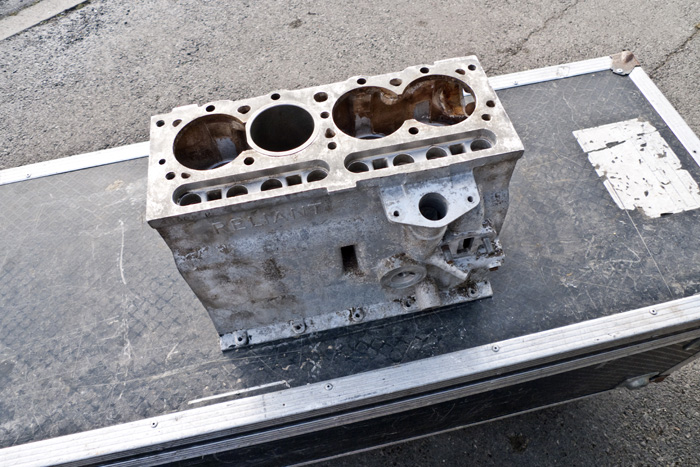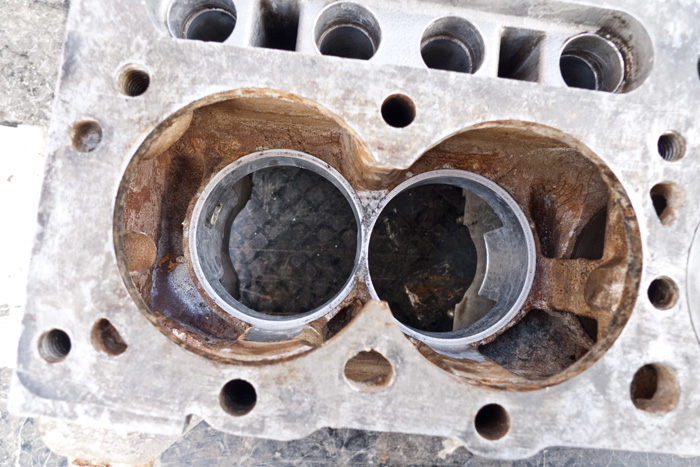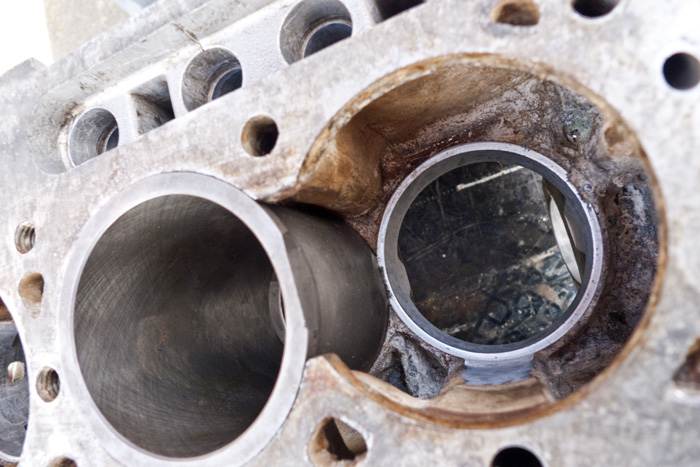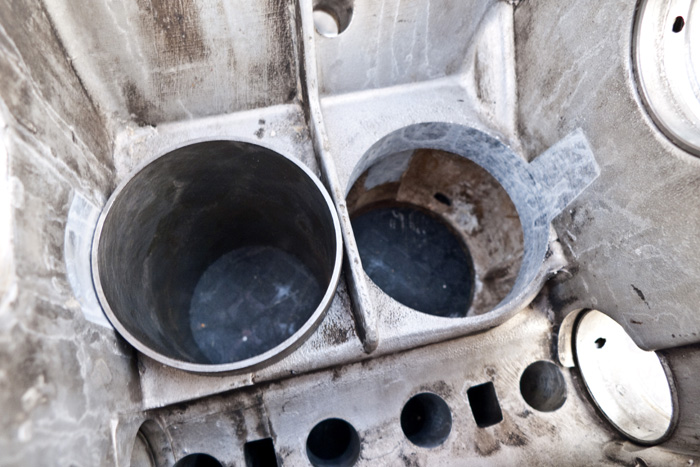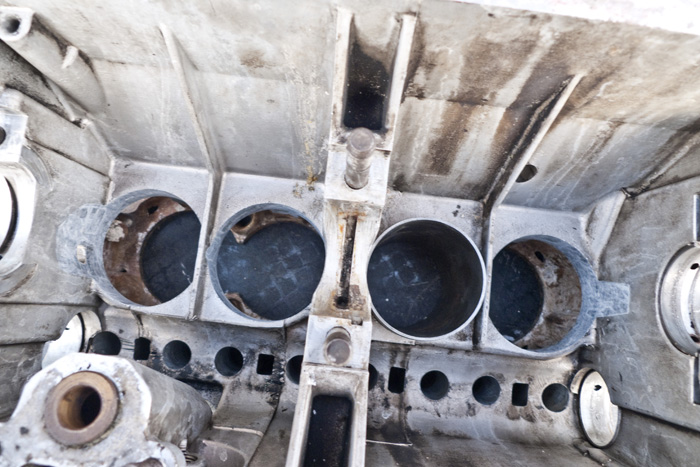 In the next post I'll share some of the options for ancillaries, heads, cranks, valve-train etc!.
Anyone want to buy some race engines? 
Dave
There has been a quite a bit of progress getting the Rebel van to a reliable state this week as it was needed to move a cargo of Teak and Foden engine Cylinder heads to the Isle of Wight!
The first step was to remove the engine again: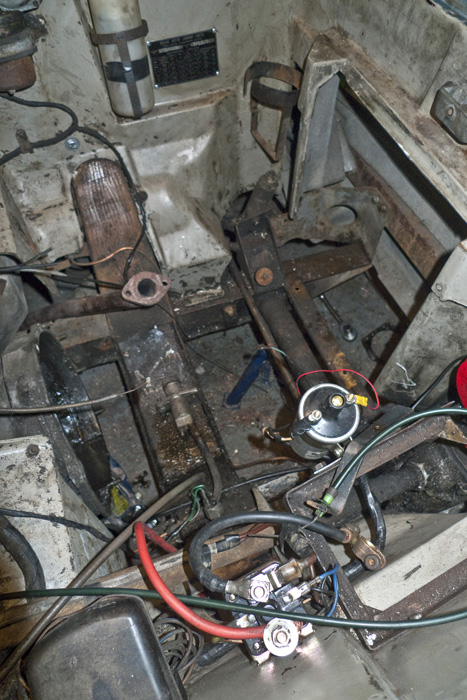 While it was out it was fitted with a new clutch pressure plate and the correct engine mounting feet for a Rebel. It was also given a small service, including points, condenser, plugs etc.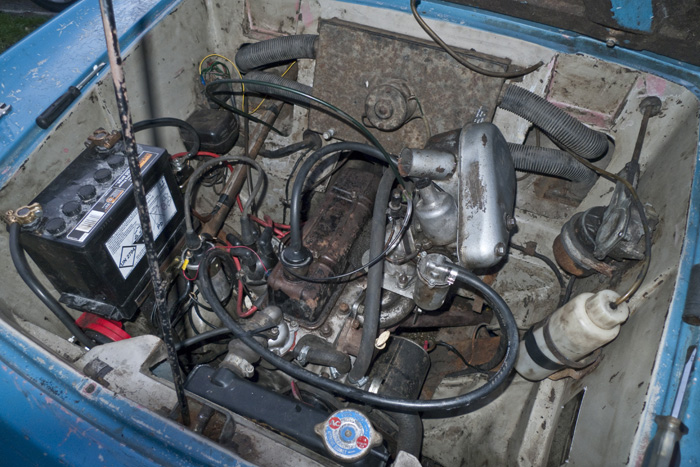 An 850 Carb, inlet manifold and were bought.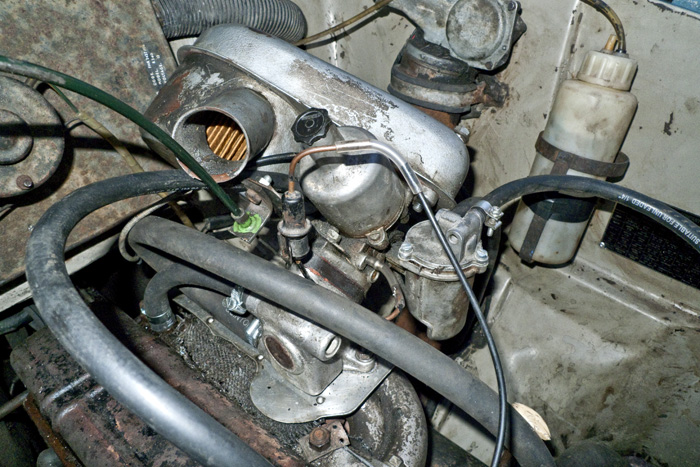 At the same time the front brake adjusters were replaced from a handy kit bought off eBay, Its Girling approved  8) the photo shows one of the old ones looking a bit fooked (they were seized)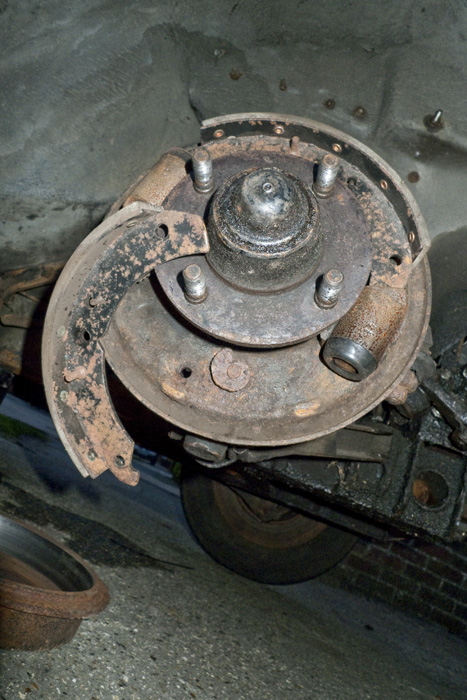 Old ones were ground off with a grinder, The packet recommended use of a hammer and chisel and a saw as options to remove old adjusters, fortunately we didn't need them! Photo shows Comparison Old and new adjusters: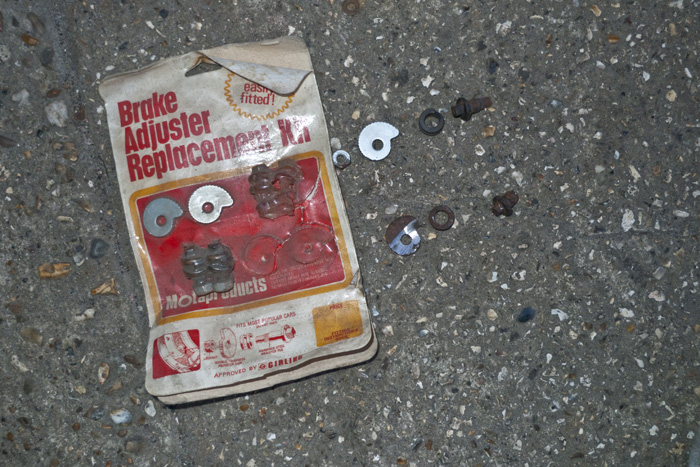 The following day the van rewarded our efforts by blowing a head gasket on the A23
. It was towed home by the AA who in an unusual show of efficiency sent a tow truck straight away!  We spent the next day changing the engine for the rebuilt 850 we had on the bench and had been intended for the red rebel. Sorry I've no photos to showing this engine swap… it was a long day!
by that evening we'd tested the new engine and had the van ready to go to the IOW… you can fit a suprisingly large amount of stuff in a small van!
a few photos at the ferry terminal: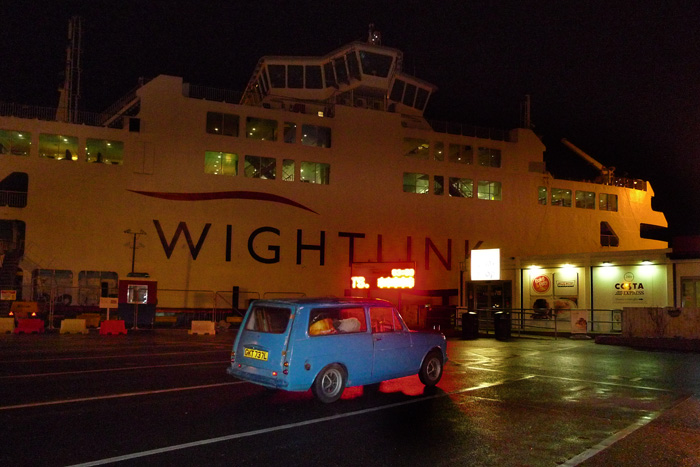 Teak is quite heavy…!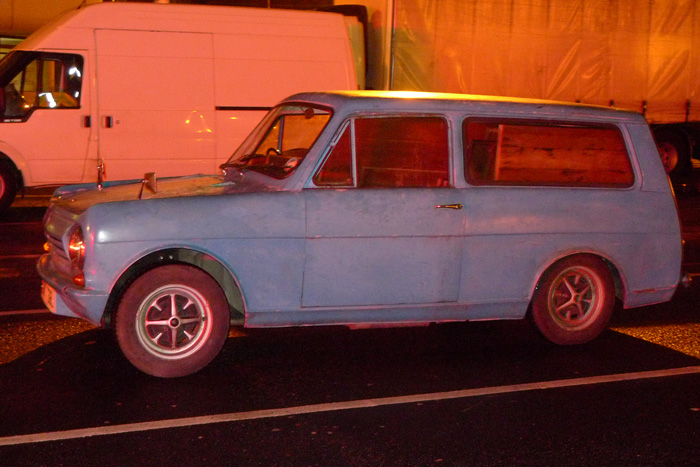 Teak on the left, Foden cylinder heads in the boxes on the right!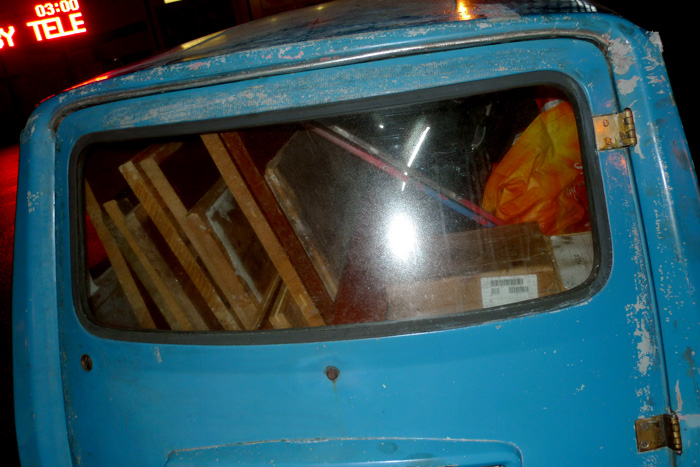 I'll write up the creation of some side panels in a bit…!
Spent the morning getting the blue Rebel MOT'd and have now clocked up 20 (painful) miles…!
Early start… our first attempt to reach the test station resulted in us heading back home having only covered a few hundred yards!  The Zenith carb and 850 engine combination proved to be un-driveable…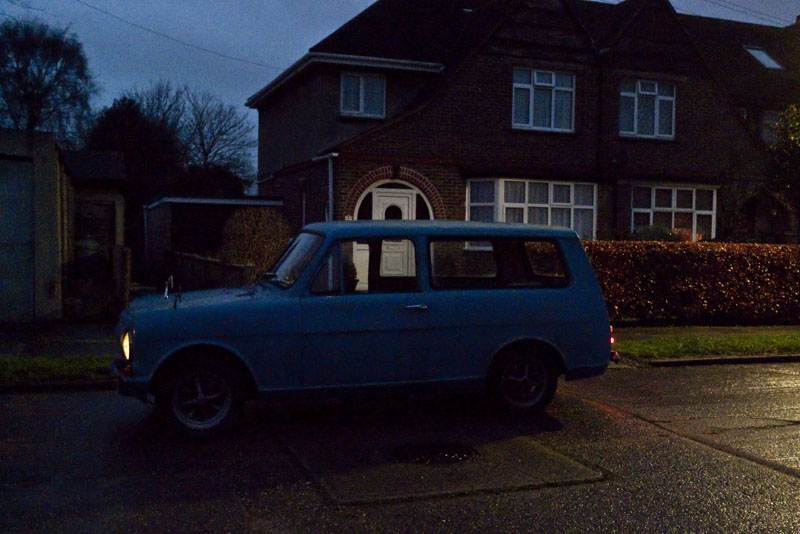 After spending some time swapping Jets over we finally made it to the test station.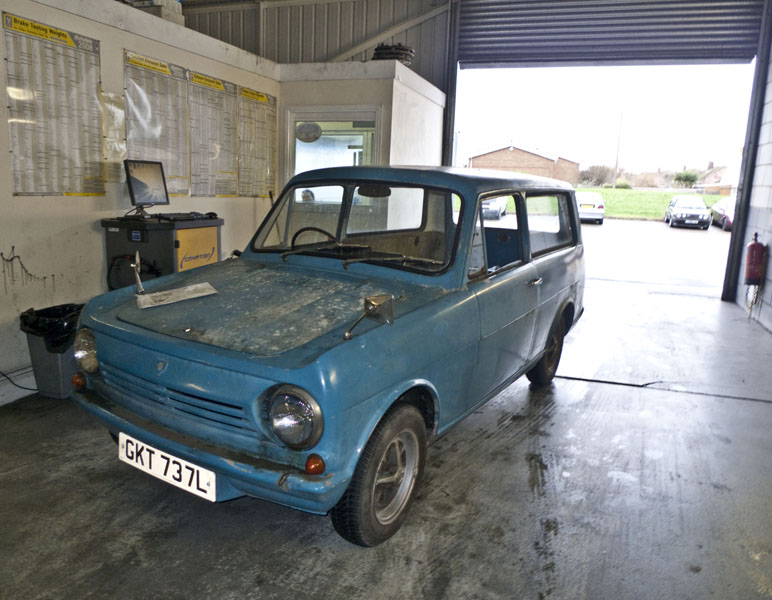 It passed, with a few advisories: Bit surprised about the wiper blades as they were brand new, most of the other points were quite minor so all in all very pleased.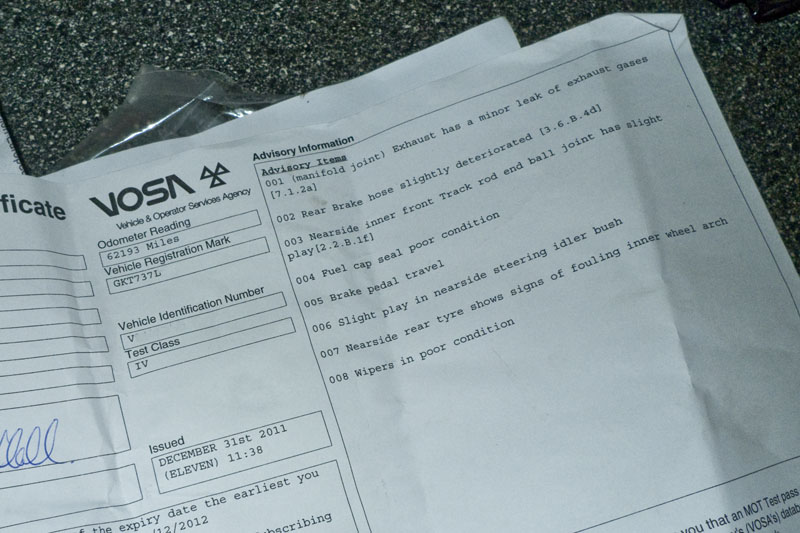 A few photos of the van taken on the way home, (wheels, tyres, starter motor, battery and petrol filler neck are on loan from the red rebel!)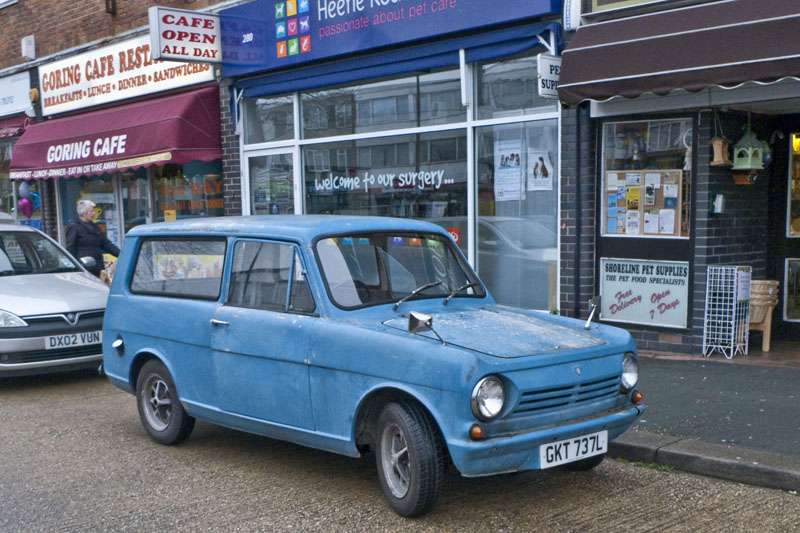 Tools and assorted carb's in the back, In total we stopped 4 times to attend to carb issues, Accelerator diaphragm burst resulting in changing it for a spare perished one and disconnecting the operating cam – made for a slightly gutless drive home!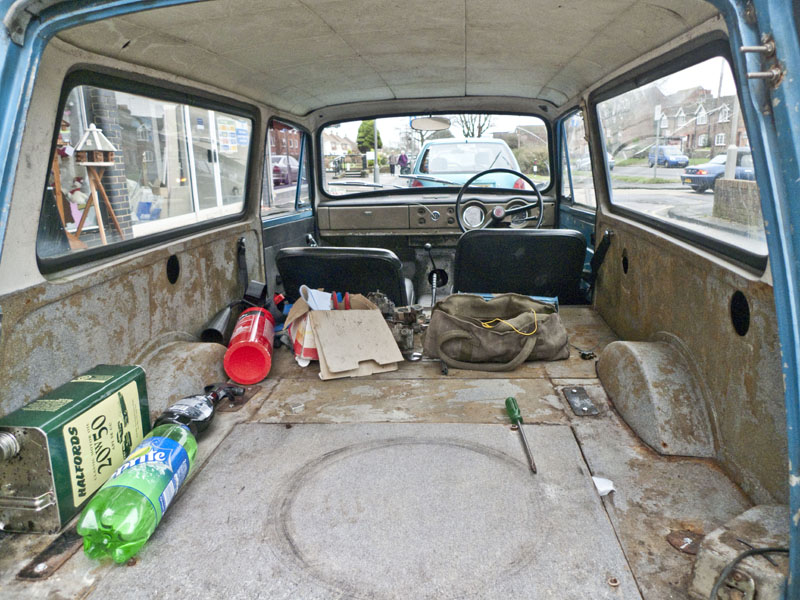 Front view, note the slightly improvised choke cable… This rebel came with two windscreens- both were scratched but we've swapped for the spare as it is at least usable! New windscreen seal fitted too.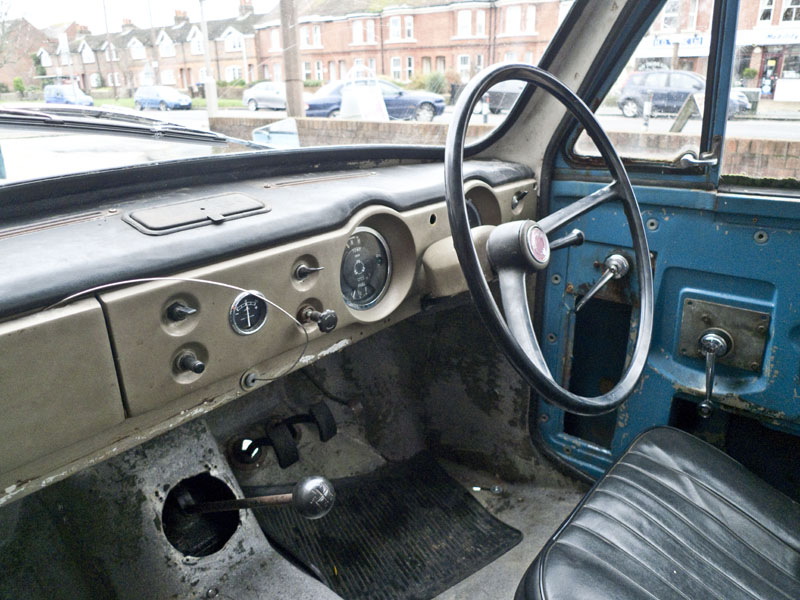 New seatbelts, these take some getting used to compared to modern inertia types!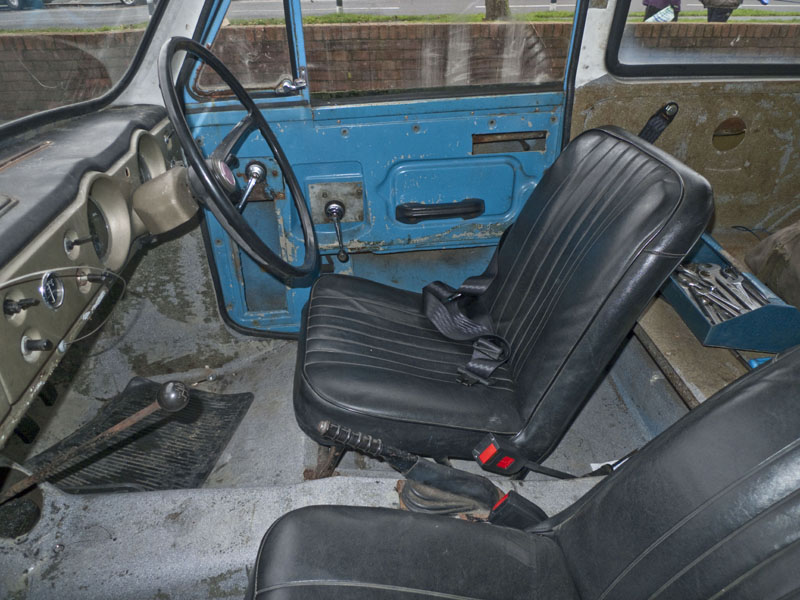 Rear door, Hinges have been repair'd and a temporary doorlock striker plate fabricated up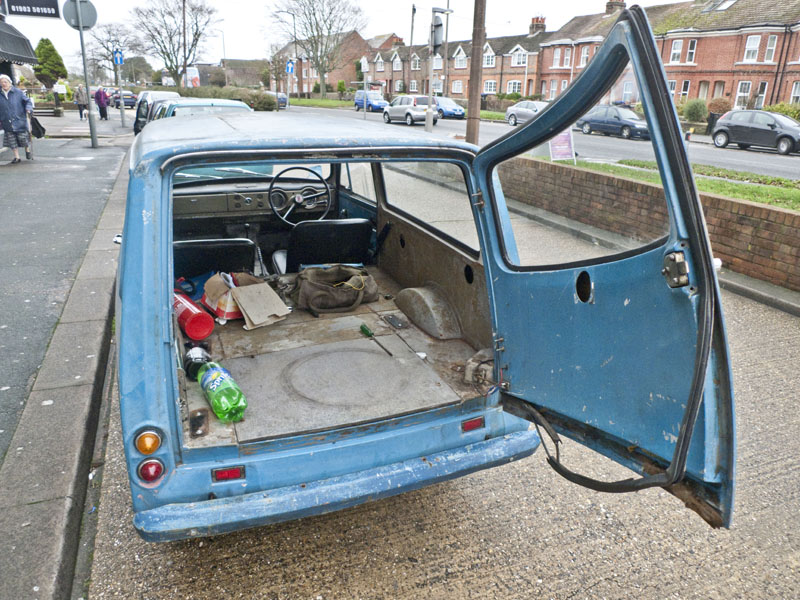 Theres a very short video of the journey home here: http://youtu.be/08X5PSxSflY
There a few bit still to be done – Tax class needs changing which will have to wait until after the bank holiday, Its currently registered as a Disabled Vehicle, Needs a SU carb to suit the 850 engine and possibly a 850 distributer too instead of the 700/750 items currently fitted. Engine front-plate still needs proper feet making up. The LUK clutch ultimately destined for the red rebel which is currently fitted wants swapping for a standard one which is on order along with a new starter, a proper choke cable would be nice as well as a new wiper switch so the self-park
feature actually works!. All that should make it a bit more usable.
After getting those bits done we'll probably make up some panels for the rear to turn it back into a proper Van and sort out the other bodywork bits. Major suspension/chassis overhaul is not a current priority and will happen in the longer term.