A new home,
I went and viewed the Boat – It was even more fetid than the photos suggested and had been sat in the middle of Bembridge harbour for eight years untouched.
There was a large area of the foredeck which you could push a kitchen spoon through it was so soft with rot, Beneath this area of deck was a watertight compartment which it wasn't possible to gain access to in order to see if the leak above had caused structural damage to the hull or not.
The rest of the boat was damp and mouldy but retained most of its original fittings which was a bonus.
Scraping at the inside of the hull above the coal bunker with a kitchen spoon revealed that it was Teak rather than the more common mahogany construction (which rots faster than a strut top on a mk1 scrote)
Based purely on this I made an insultingly low offer, telling myself the 18ft of 3″ Bronze propeller shafting and prop were worth as much in scrap.
As the boat could only be moved out of its mooring on a high spring tide there was only a week or two before the boat would have to be moved or it would be another couple of months for a high enough tide.
The offer was grudgingly accepted and a new mooring was arranged.
Heres a Video showing me bringing the Boat alongside at the new mooring behind the Newport Travel-inn who I'd annoy with my un-silenced single cylinder air cooled Lister Diesel Generator for the next 6 years.
Apologies for the crap quality I think it was recorded on my little sisters phone:
The exhaust note sounds shit as it was running through a watercooled silencer.
Alongside: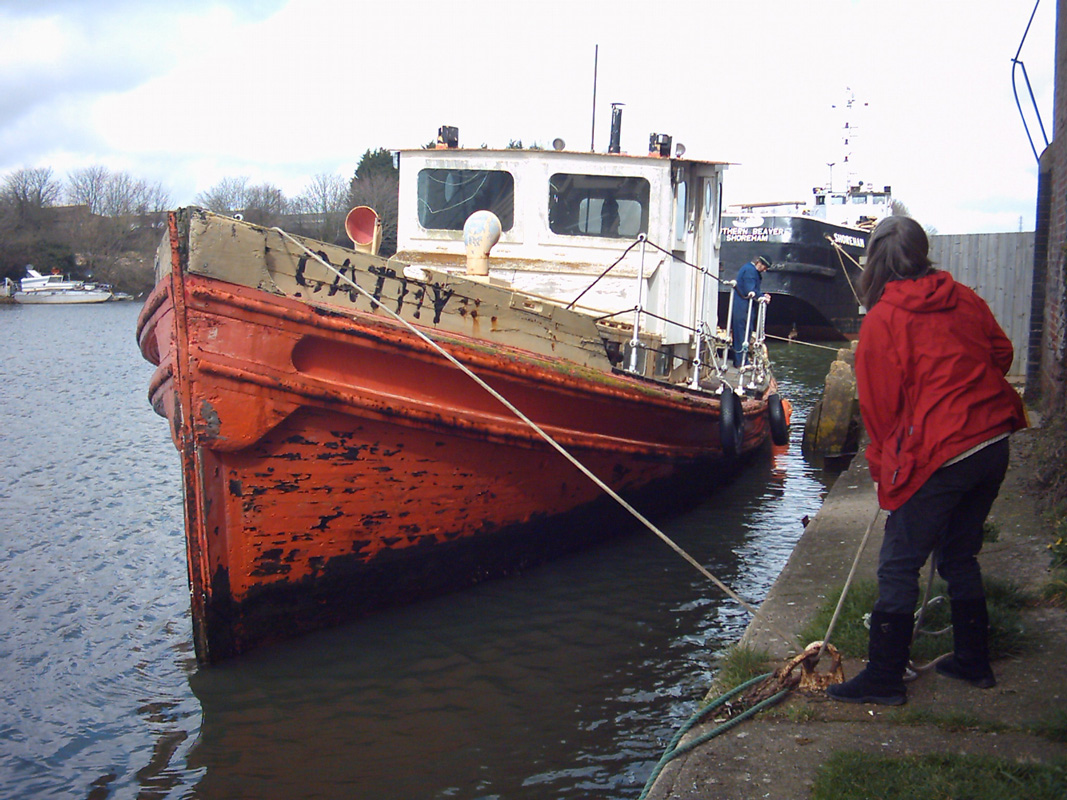 I proceeded to remove the wheelhouse and investigate the rotten deck which turned out to be beyond repair.
The Original Teak planked deck and Oak deck beams had been replaced with plywood during privatisation of the RMAS arm of the navy in the early 90′s and had obviously been done with a very short lifespan in mind (New boats had been ordered as part of the privatisation).
The bottom of the steel coachroof was also badly corroded and required repair.
Theres a bit of a gap in the photos for 6 months or so until Joe came over (probably during the IOW  Rock festival?)
By this point I'd removed the wheelhouse and foredeck and cut 4″ off the bottom of the aft cabintop ready for replacement as well as having made a start on removing 40 years of flaking paint off the steelwork: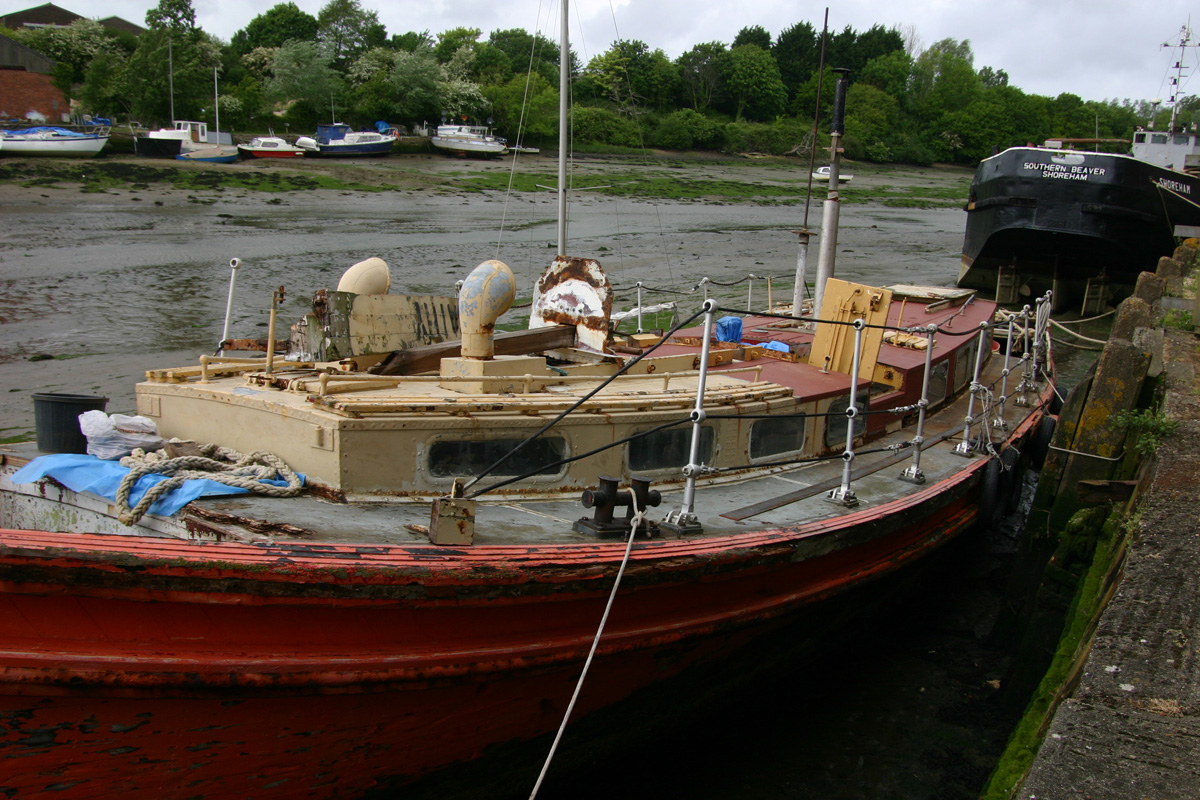 The forecabin had had the carpet removed (which was nailed down and infested with earwiggs), Also the hardboard linings had been removed from the inside of the hull revealing the original slatted wood lining and allowing an assessment of the hulls condition to be made. this cabin had become a bit of a workshop as well as being my living space: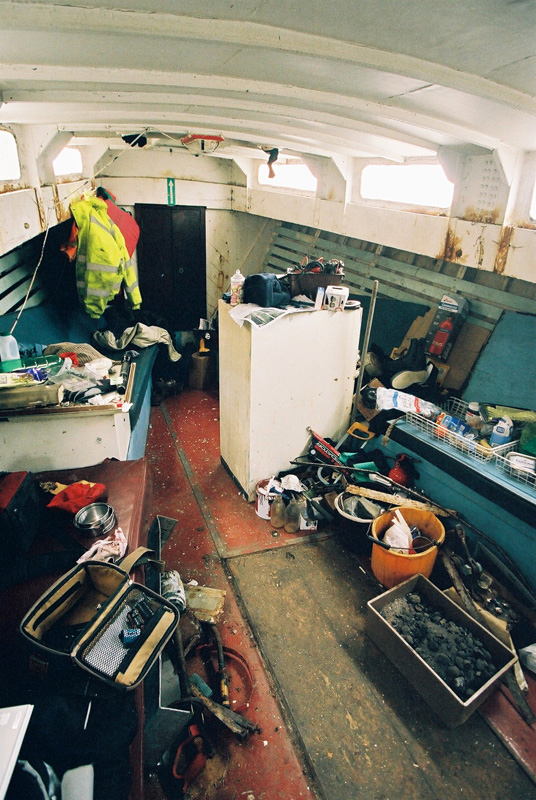 The original Esse solid fuel range had been treated to several buckets of fire cement and was doing a good job of providing heat and cooking facilities: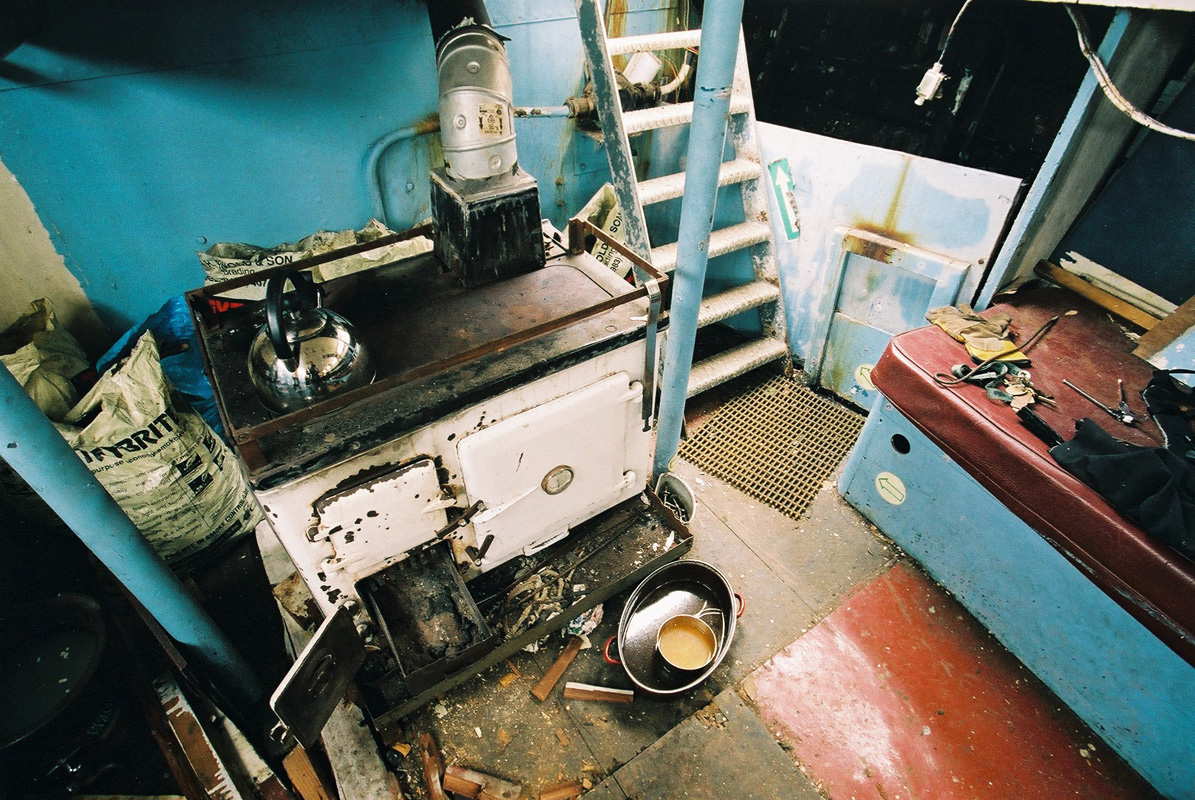 The well where the original wheelhouse would have been: