Interior Fitting & Bumpers, Badges and Glass
I've recently got back form the Isle of wight where I've been assisting Dave fitting out the Rebels interior… I thought this was going to be a fairly nice job but the dire weather left the tent where we were working half full water. It made it interesting trying to keep things clean and dry!
Outside the bumpers and badges have been fitted and the boot trial fitted (still needs work on the hinges to get it quite right and the rubber gaskets need trimming to get a better fit. The windows have also gone back and are now just waiting for some new chrome infill to finish them off.
Inside the Insulation, carpet and vynide have been fitted as has the vinyl covering for the roll bar and a new headlining has been made.
Pictures:
Some better post spray job photos now with bumpers and badges on: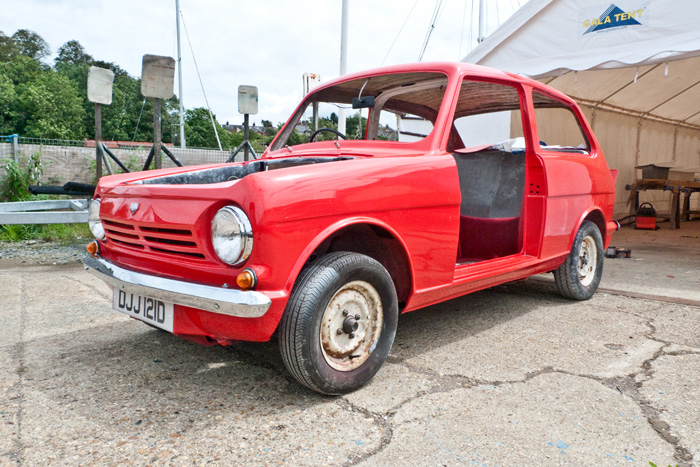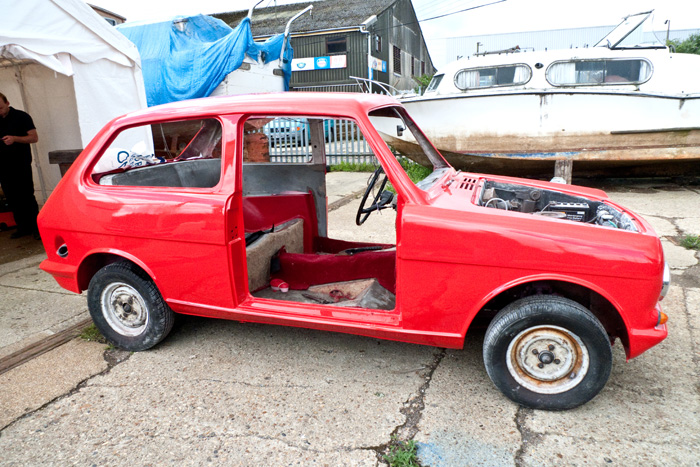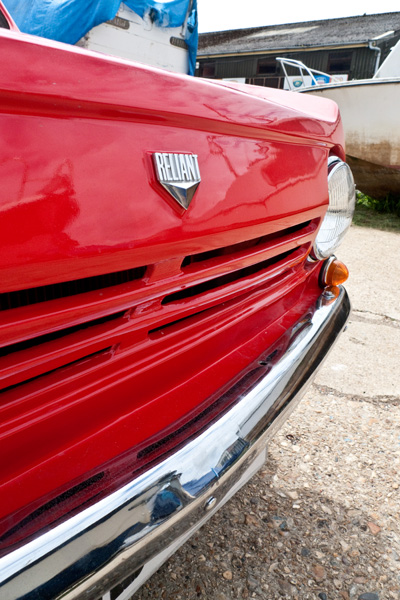 The boot, The seal will need changing for a different type as this one is a bad fit when its closed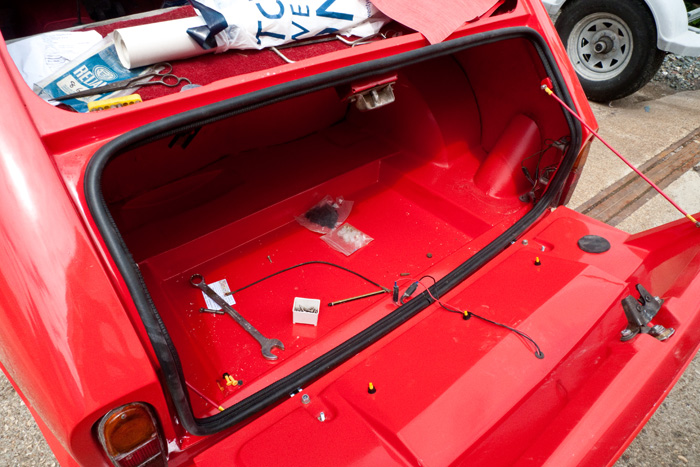 The locking filler neck, still needs a pipe sorting to connect it to the tank though!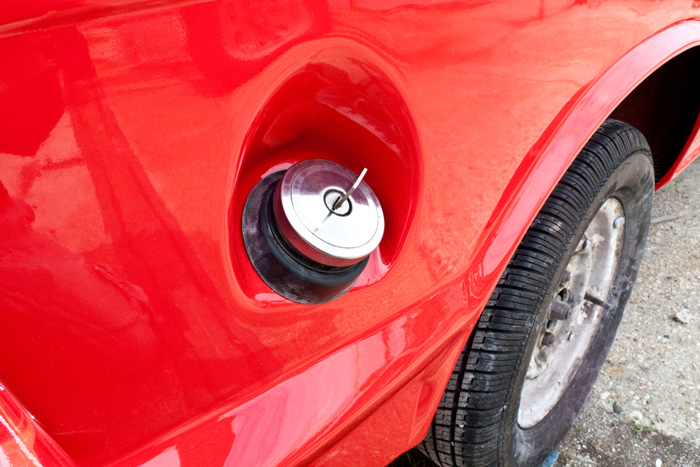 New British made Chrome hinges and New old stock badge. The taillights desperately need replacing the chrome is poor and a couple of the lenses have small cracks. Ideally we are looking for some that are new old stock or very good used.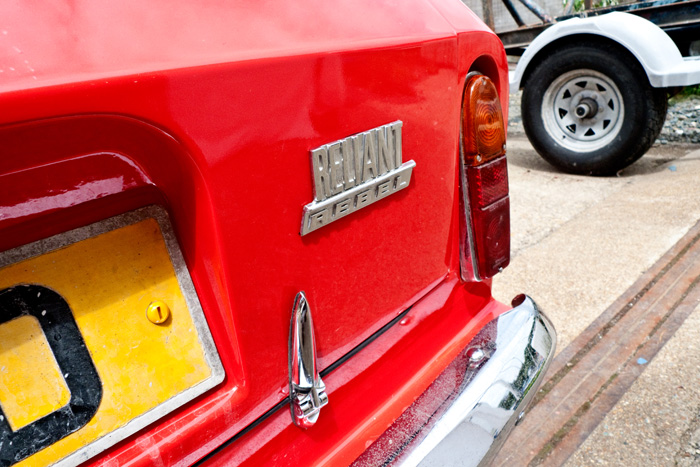 The following pictures show the Jute underlay being cut and fitted, we've used more of this than Reliant did so hope for a reduction in road and engine noise. The underlay was fixed into place with High temperature contact adhesive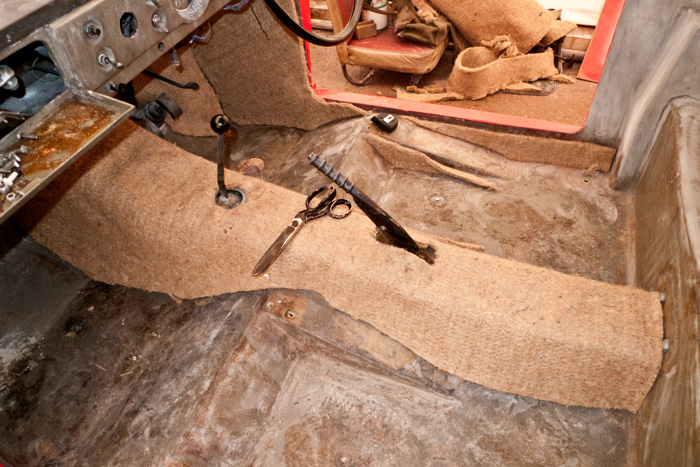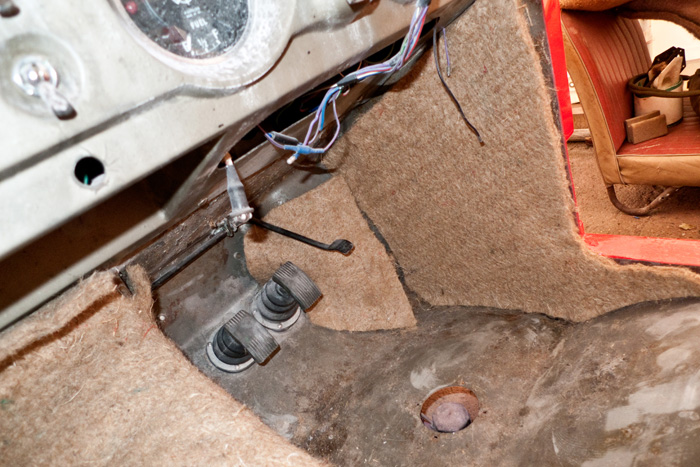 Rear seat armrests were sanded town to give a surface as smooth as possible to fit the vynide to, its very thin so imperfections show up really easily.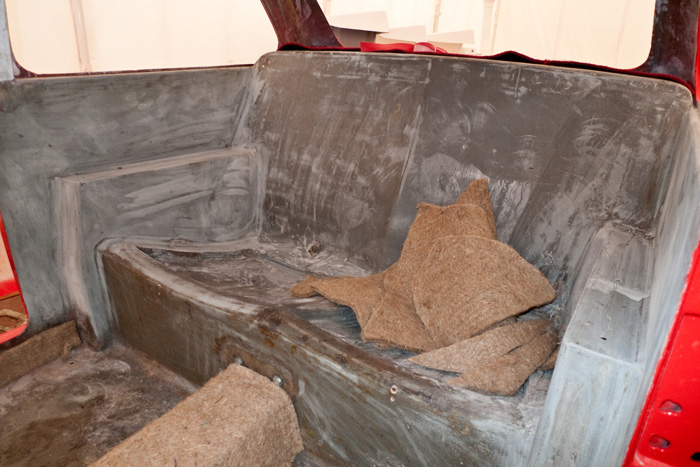 Footwell carpets in, gearbox tunnel carpet being trial fitted,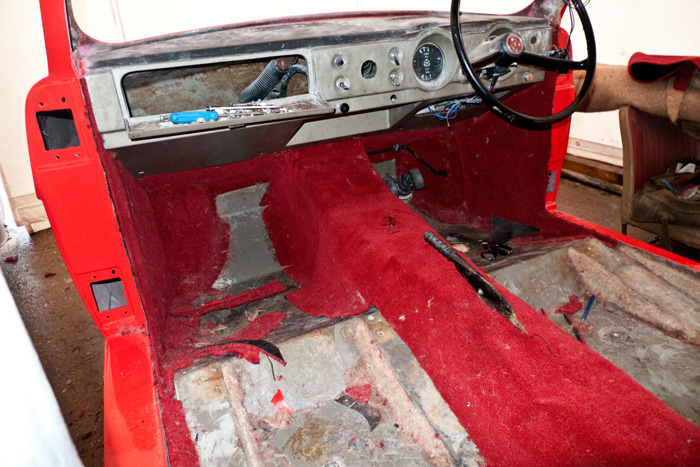 First vynide bits in.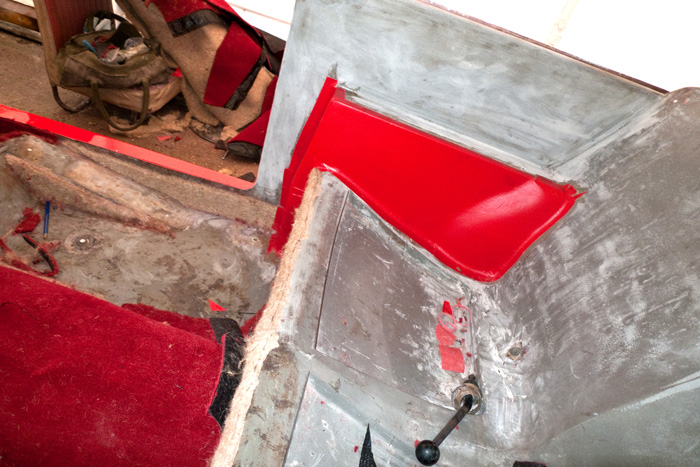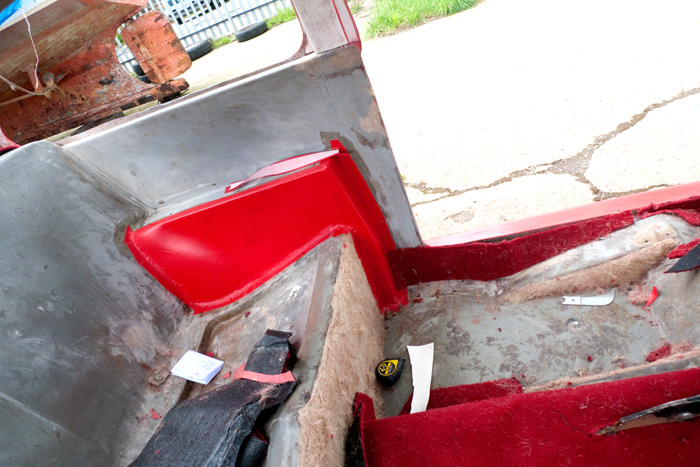 Gearbox tunnel carpet fitted,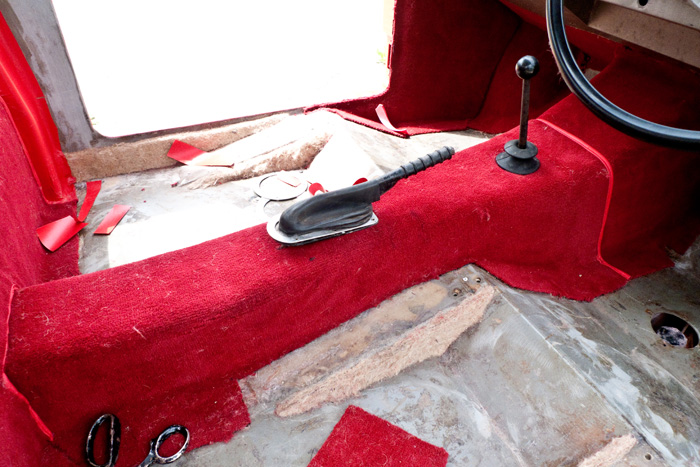 The headlining and rollbar cover, This is our first attempt at making a headlining from scratch its not bad but has some small rucks at the ends which could be improved on in future. The general affect with the rollbar seems so work it ties in well enough to look like its standard fit.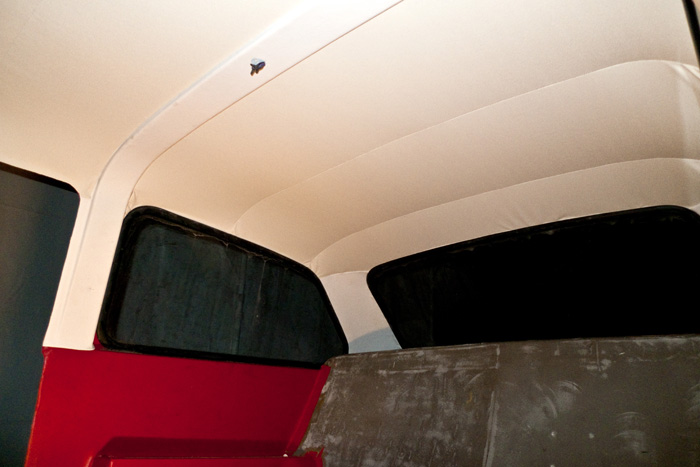 B Pillar vynide / vinyll join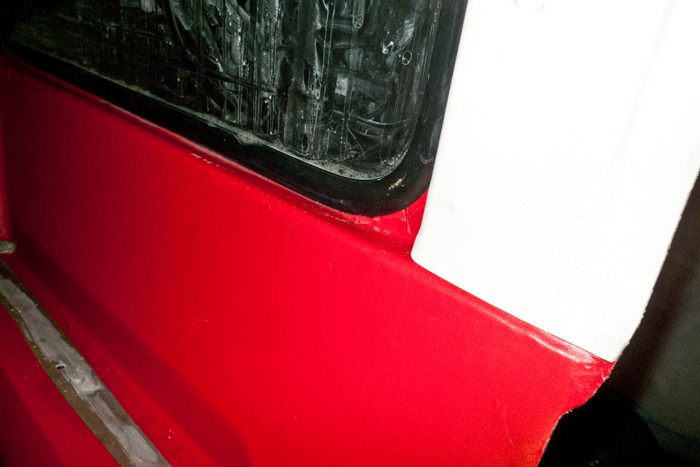 For the c-pillar and a-pillar trims we recovered the original aluminium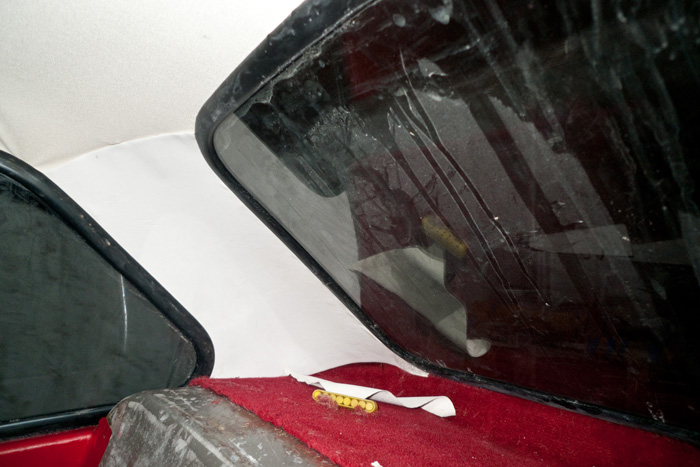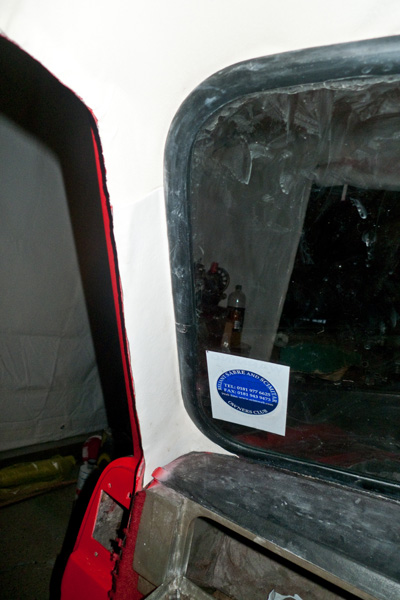 The Rebel shortly before leaving to catch a 2:30 am ferry…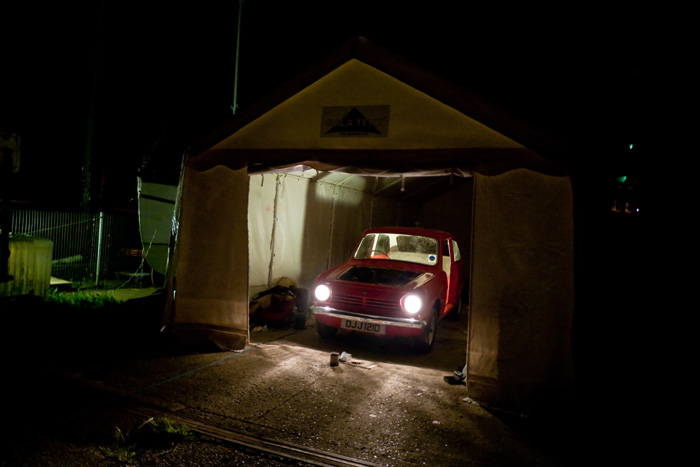 The next stage will be another hit to get the doors built up and fitted ( they are currently waiting for the hinges and frames to be grit blasted and then sprayed.) Then the over carpets need edging and the seats need new covers made. There are lots of other odd jobs to tackle like the dashboard, door cards, etc