Engine Running
The next stage was to get the engine running.
This turned out to be a very frustrating process. We set the firing order up in accordance with the parts book we had, fitted a new distributor cap, points, condenser and plugs. But despite changing HT leads and dismantling the carb we could only get her to run by pumping the throttle therefore dumping petrol out the acceleration jets into the manifold. It ran ok at high revs but misfired & backfired on lower revs – the airfilter is now very charred and i have less hair than when i started! (lack of windscreen!).
The following day decided to set up the ignition timing from scratch, after being very confused for several hours Dave realised the ignition lead/firing order diagram in the Graham Walker catalogue is numbered incorrectly. with no timing light or pressure indicator the dizzy was pulled out the block and set up with TDC on no1 with a bit of wire down the plughole. Popped the dizzy back in set the points gap and advance with a feeler guage, turned the key and she' started and idled beautifully – no misfires when you rev up or drop off after two days of frustration we had a running engine!
A day later and I drove the car under its own power for the first time. Not far just out of the garage and onto some stands. The valve clearances were set-up properly and the Essex now sounds very smooth considering it was an entirely unknown factor when I got the car. Driving the car was a pretty good psychological boost, especially as I was now financially committed to making it road worthy again.
Finally a few photos:
Car out in the daylight, (it went onto the stands under its own power)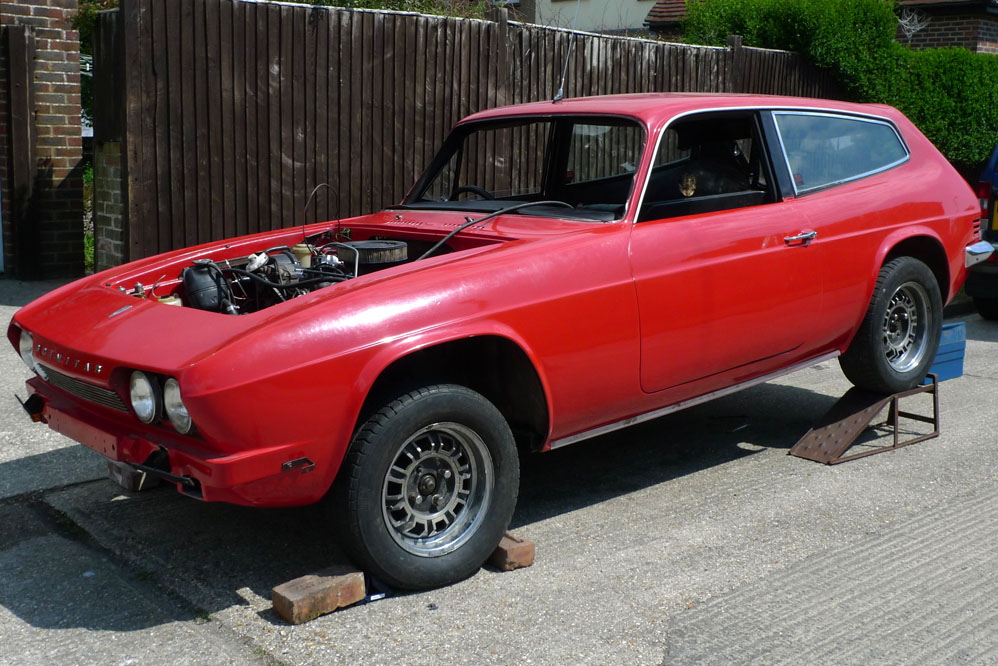 I had the car up with the intention of laying new copper brake lines but realised I'd lost a vital die from the flaring kit 
Engine bay in daylight: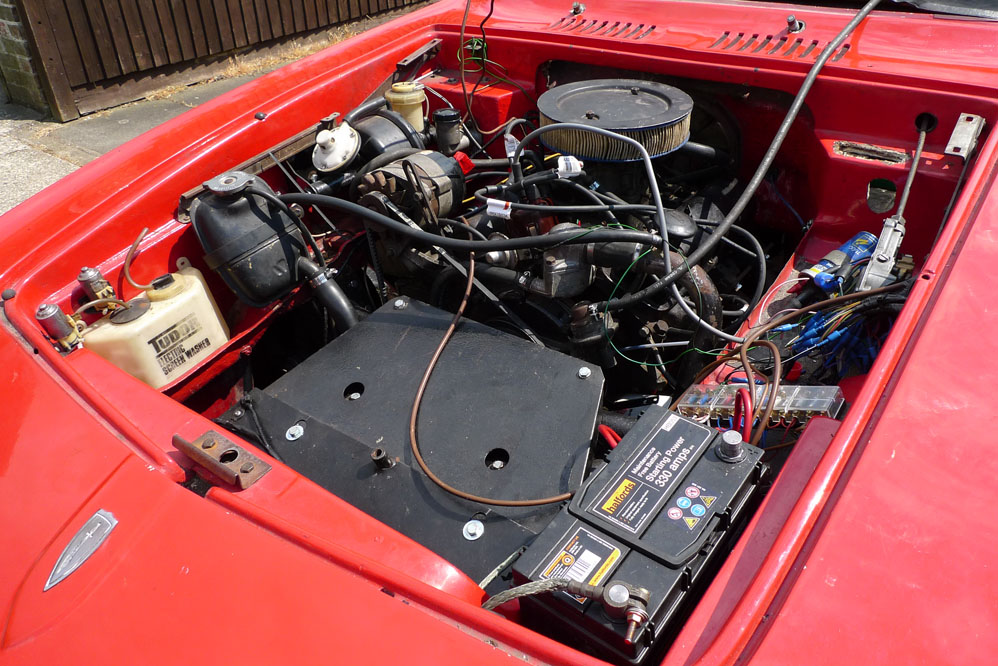 And from the other side, The copper pipe is a temporary ctuch pipe as my new banjo and hose had not arrived.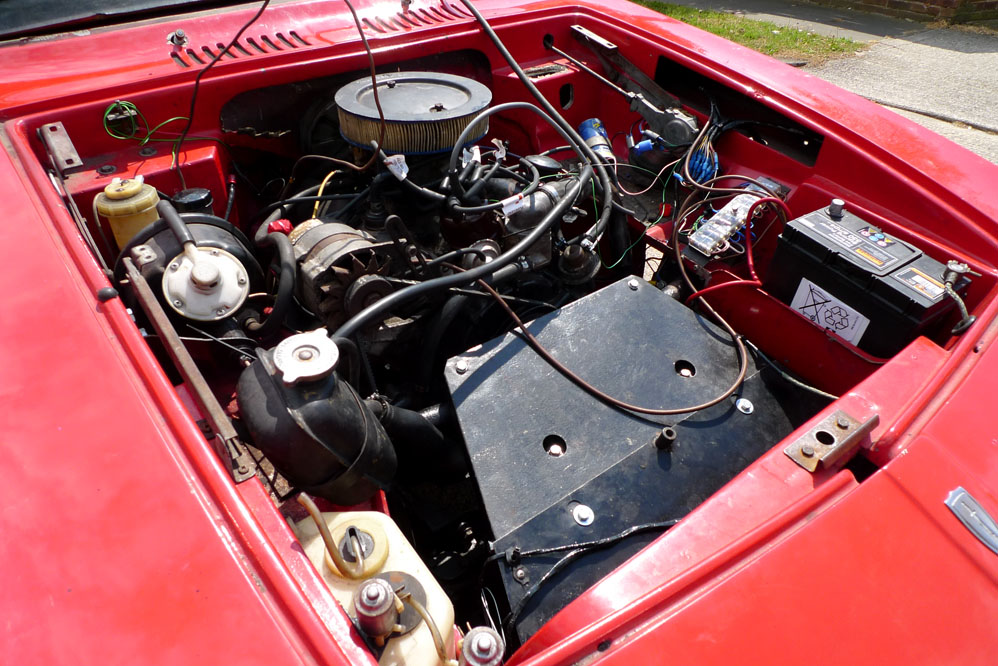 Inside with a temporary seat! Since I took this photo The steering column has been finished off (I was missing the cam that operates the self cancelling indicators and the locking nut for the wheel! Fortunately QRG had both in stock.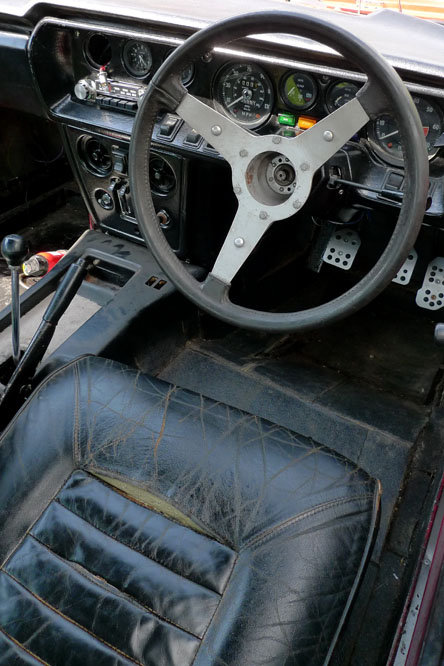 Now with fitted propshaft: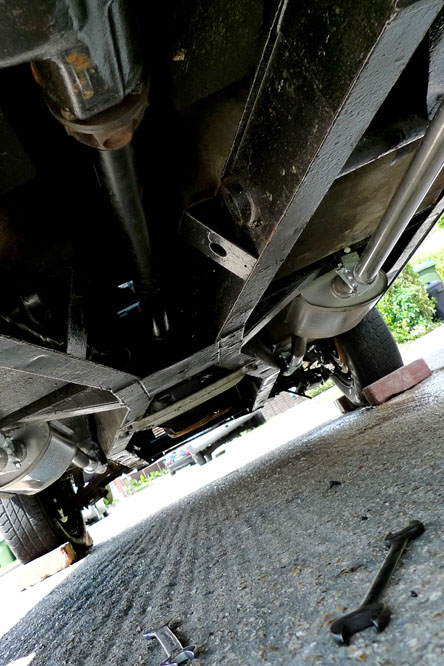 Having given up on laying brake pipes on account of the missing die I on a bit of a whim decided to fit the windscreen as i had a new rubber seal and screen that came with the car, which in hindsight was probably a bad idea… But it does give the car a nice I (if artifical) sense of completeness.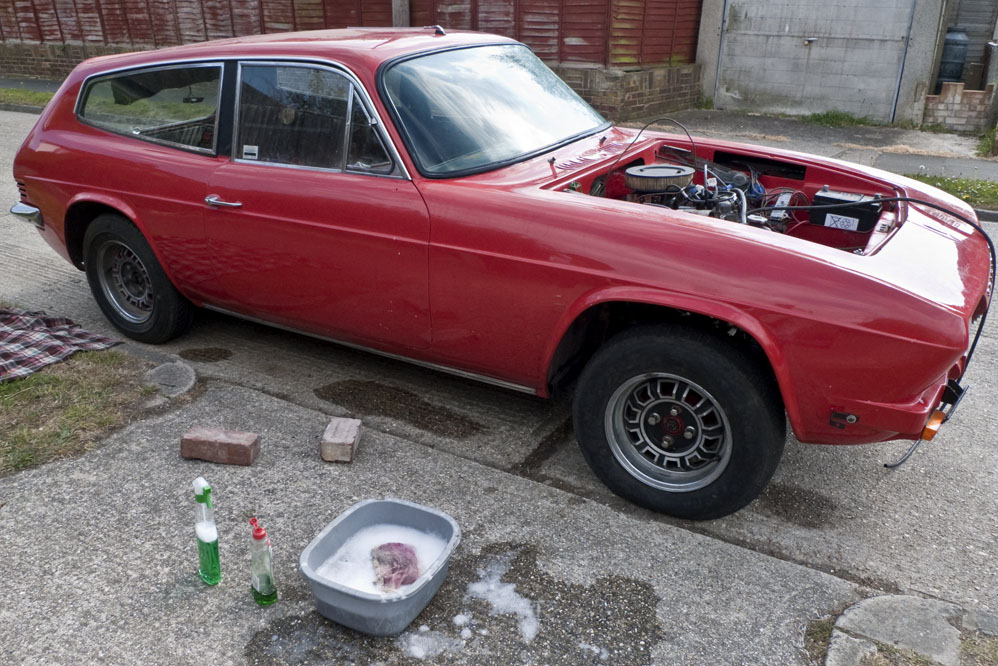 The rubber was pressed into the body and then the windscreen went in bottom first, It did take 2 goes to get the alignment right,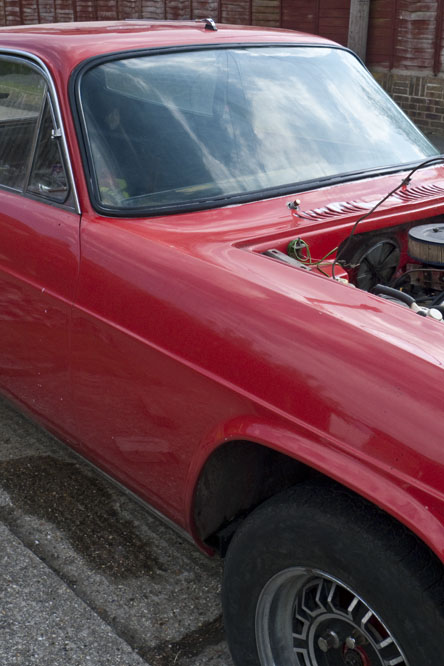 Since taking these Its been finished with the chrome rubber srip which I got from a local classic car specialist for a bargain £6