Running and Driving
This last post brings the Rebel Van photos up to date with the van running and moving under it own power.
Rad filled with water, a borrowed battery off a Scimitar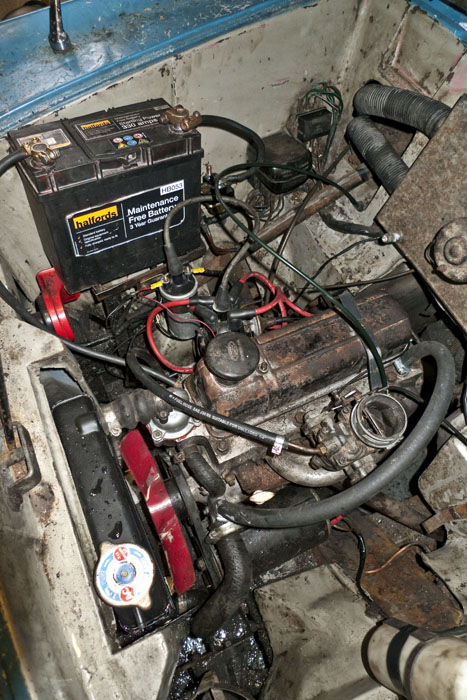 Checking the Electrics, Terminals were cleaned and some modified wiring removed and everything came back to life, The fan motor switch is dodgy, and a new wiper switch would be nice but virtually everything else electric works.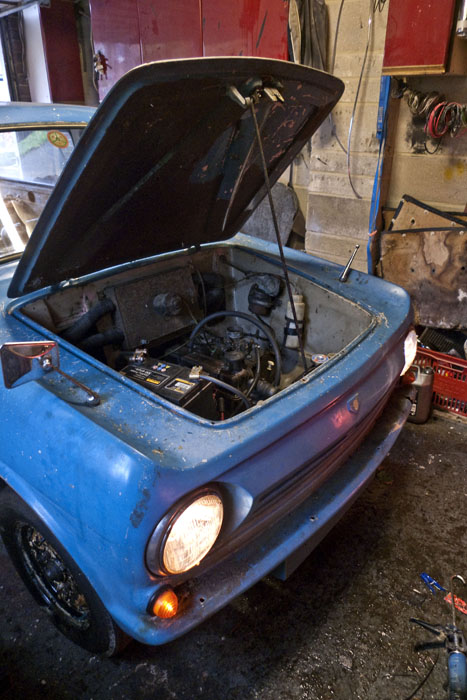 The front brake pads never arrived in time to fit them bleed and check the system but we decided to try and get the engine running anyway. Photo Here shows Dave priming the carb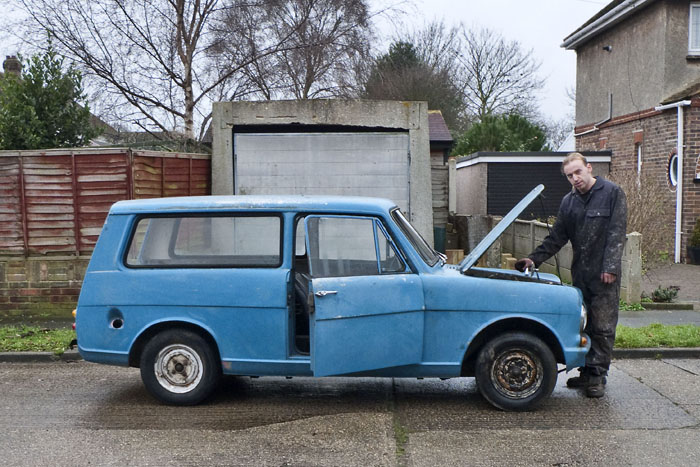 We were missing the starter so it took half an hour of pushing up and down to get the engine running, after a few false starts it fired up… Just as well as really as rebel with hard crossplys on the front and slightly flat radials on the back is quite hard work to push!
The Video: http://youtu.be/r5hV_EeOA4g
The Carb is wrong as its a Zenith and it should have an SU, As a result it doesn't want to idle on it's current settings. A decent play with the idle screw will probably make workable in the short term. It sounds fooked but its probably just the timing chain tensioner, It needs a new water pump as too as the current one pisses water everywhere.
The MOT Jobs list is something like this:
Replace windscreen – (current one has severe scratches, new one came with the car)
Fit new seatbelts – old ones are a bit frayed
Starter Motor – Because push starting is too much like hard work
Water Pump – May borrow this off the rebuilt 850 sat on the bench in the garage to save £££"S
Timing Chain tensioned,
Proper Engine mounts making,
Replace rubber filler pipe – Old one had dissolved.
New Tyres, – The van will probably inherit the Rostyles off the Red Rebel as Dave doesn't like them the red rebel will then get something different.
Replace Rear door, – Requires a repair to one of the hinges
Source new numberplate and test numberplate light.
Fasten remaining chassis bolts down – needs more 1/4 inch unf bolts
Probably paint the rest of the chassis as some against protection against the winter roads.